In-depth Data Insights
Boost Business Growth
KAWO equips B2B enterprises with a powerful social media management and collaboration platform. As a result, teams are able to operate more efficiently and make clear decisions based on industry trends, customer data, competitor analysis and market insights that business drive growth.
The B2B Customer in China
Multiple Decision Makers
For complex B2B solutions there could be upwards of 10 decision makers! Being able to segment and track your content is crucial.
Longer Customer Journey
The B2B customer journey is often longer and more complex — adding an extra challenge for marketers to track and analyze it properly.
They're Just Like Us
B2B customers also use social media to search for products and services. Being on the right channel at the right time, with impactful content is will impact success in the market.
Challenges Facing Marketing Teams in the B2B Industry
Budget & Manpower Limits
The marketing team is often short-handed and restricted on budget. Online and offline events are usually managed and operated by internal teams, and thus the time and budget to focus on social media are limited accordingly.
Messy Approval Process
Official posts usually require approval from team members seated across regions and departments. Internal communication and collaboration processes are time-consuming and inefficient resulting in lengthy delays, miscommunication and things falling through the cracks.
Inefficient Data Collection
Collecting data from your own account and that of competitors could be very time-consuming when done manually. As a result, reports often lack high-level insight sufficient enough to support content strategies.
Lagging Trend Insights
Insights into industry trends often lag behind, thus making it impossible to always be one step ahead of competitors to seize opportunities.
Language Barrier
Content and platform interfaces in Chinese make it hard for headquarters to understand their own social media performance and market trends. This puts additional work on the local marketing team to generate bilingual social media reports.
Inefficiencies in Managing Shared Media Assets
Media assets from overseas social media channels cannot be used directly. Precious time is wasted re-uploading to third-party platforms and then downloading internally.
KAWO Solution
As a first-class China social media management platform, KAWO empowers marketing teams in B2B corporates to streamline collaboration with a one-stop content planning, creating and approving platform. B2B corporates now are able to strengthen brand image and seize new opportunity through monitoring and analyzing industrial trends on social channels.
Real-time Account Data
✔️ Access multi-dimensional account data  to visualize overall account and single post performance across all China social channels in one dashboard
✔️ Various metrics and visual charts help teams instantly gain clear insights into patterns and trends of content, helping them to plan an execute more effective content strategies
✔️ Bilingual data reports exported with only one click, available in different formats for reviewing and sharing to save your time and effort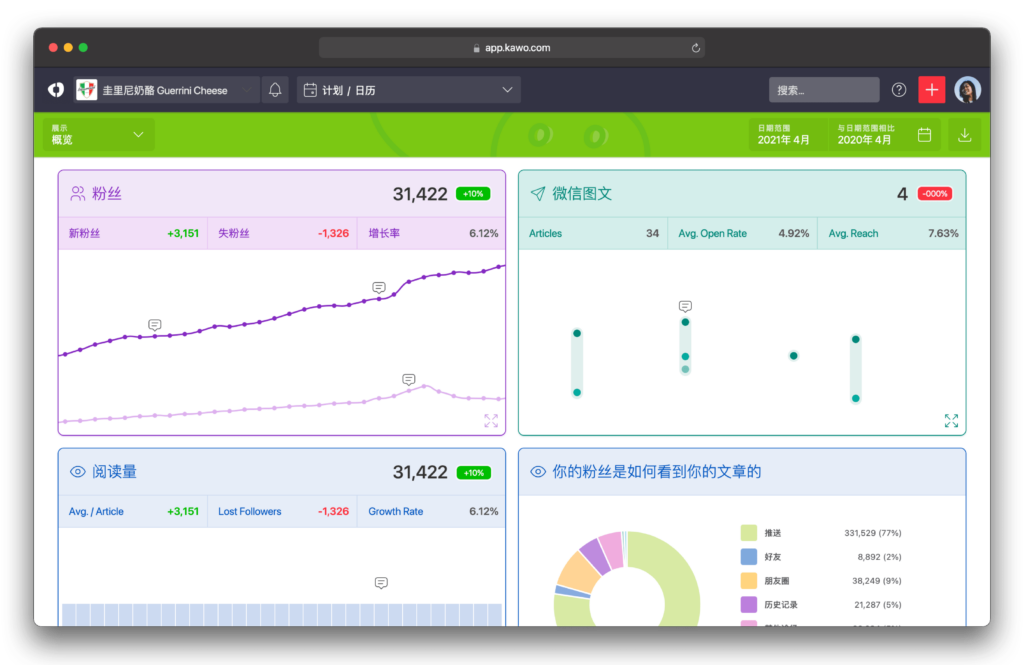 Clear Process for
Seamless Collaboration
✔️ Clear planning and scheduling tool available to unlimited users
✔️ Transparent collaboration across teams in real time keeps all stakeholders up-to-date with the latest progress and action items
✔️ Multi-step, clear approval function ensures processes are followed and nothing gets lost in messy email chains
Keep Track of Industry News
✔️ Real-time data collection measures competitor ranking and allows for industry benchmarking
✔️ Monitor news and updates across various industries to stay one step ahead of others  
✔️ Word cloud visualizes hot topics to help teams immediately recognize opportunities in the market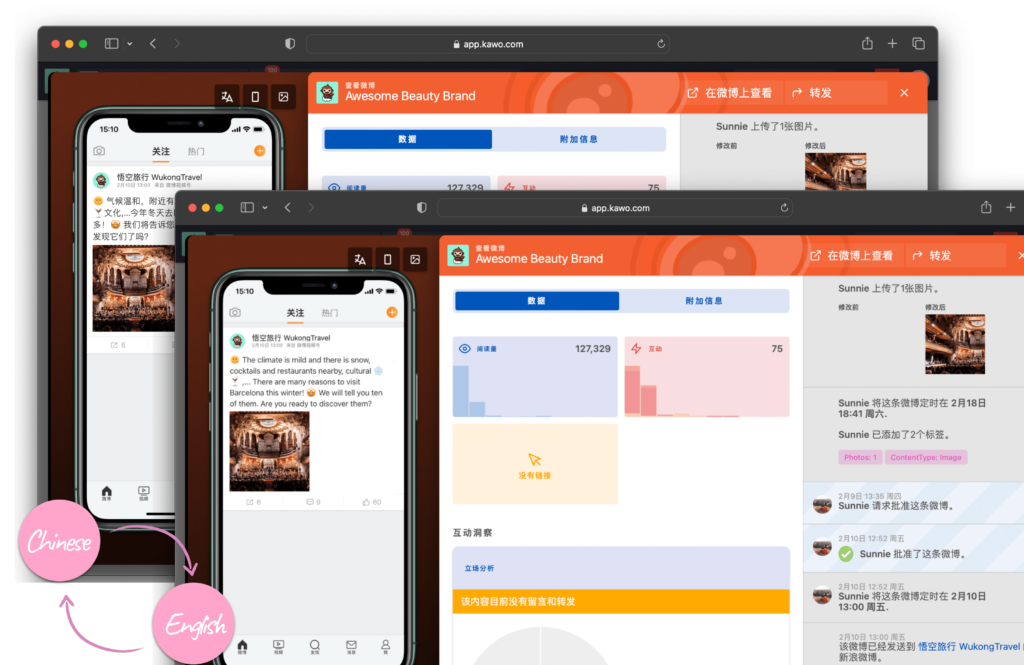 Transparency and Understanding for Headquarters
✔️ One click to switch between and export Chinese and English reports
✔️ Metrics and data in English help Headquarters and overseas teams gain transparency on performance and build trust with Chinese team
✔️ Global assets translation can provide quick inspiration for content localization
B2B Enterprises Always See Positive Impacts Instantly
After Leveraging KAWO
Gain up-to-date market trends
Be familiar with the industry updates including competitors, upstream and downstream enterprises and adjust the strategy to seize the opportunity in no time utilizing information and time gap.
Save valuable time
Optimize repetitive manual tasks such as data collection and reports generation, communication and collaboration, and put effort into high value-added work.
No more trifles
Powerful features such as smart scheduling, post time setting, content auditing help you get rid of frustrating details once for all.
Category KAWO Has Covered
Manufacturing
Processing
Mechanical
Electronic
Real Estate
Bioengineering Pharmaceutical
Professional Service
Connect With Social Experts >>
✔️ One-on-one communication and evaluation of social media status by our commercial team
✔️ Unique social media management solution and industry case sharing customized for your business
✔️ No commitment required