It's safe to say that in 2015, WeChat took Chinese netizens by storm. Quickly surging to over 600 million active users, WeChat has become the next frontier for marketing and branding execs trying to make their footprint in China. But in this age of using data to drive business decisions, what tools are there for social media management teams to gain insight as to how their content is performing?
At KAWO, we constantly seek to increase transparency and provide our users with actionable intelligence to improve their social media strategy. With KAWO stats for Weibo and WeChat already available, we've now taken the next step in giving you more impactful, granular data.
Introducing: Individual Post Stats for WeChat
Feature
This week, we deployed statistics for individual WeChat posts. Users are now able to see detailed numbers of how each post is performing, in terms of reads, shares, clicks, and favorites. Users are also able to view the statistics in total, per article, or per day.
Functionality
If a brand has a WeChat account hooked up, your published WeChat posts will appear in the published tab. These posts will now have a "View Post" option.
In this page, you will just see the number of reads, shares, clicks, and favorites. Showing the 7-day total number, and also the per-day numbers on the graph.
If the post has multiple articles, it will show you the combined totals. When you click on the article bar chart at the top, you will see the numbers for individual articles.
You will also be able to compare the numbers between each article on the bar chart, by clicking the stats buttons.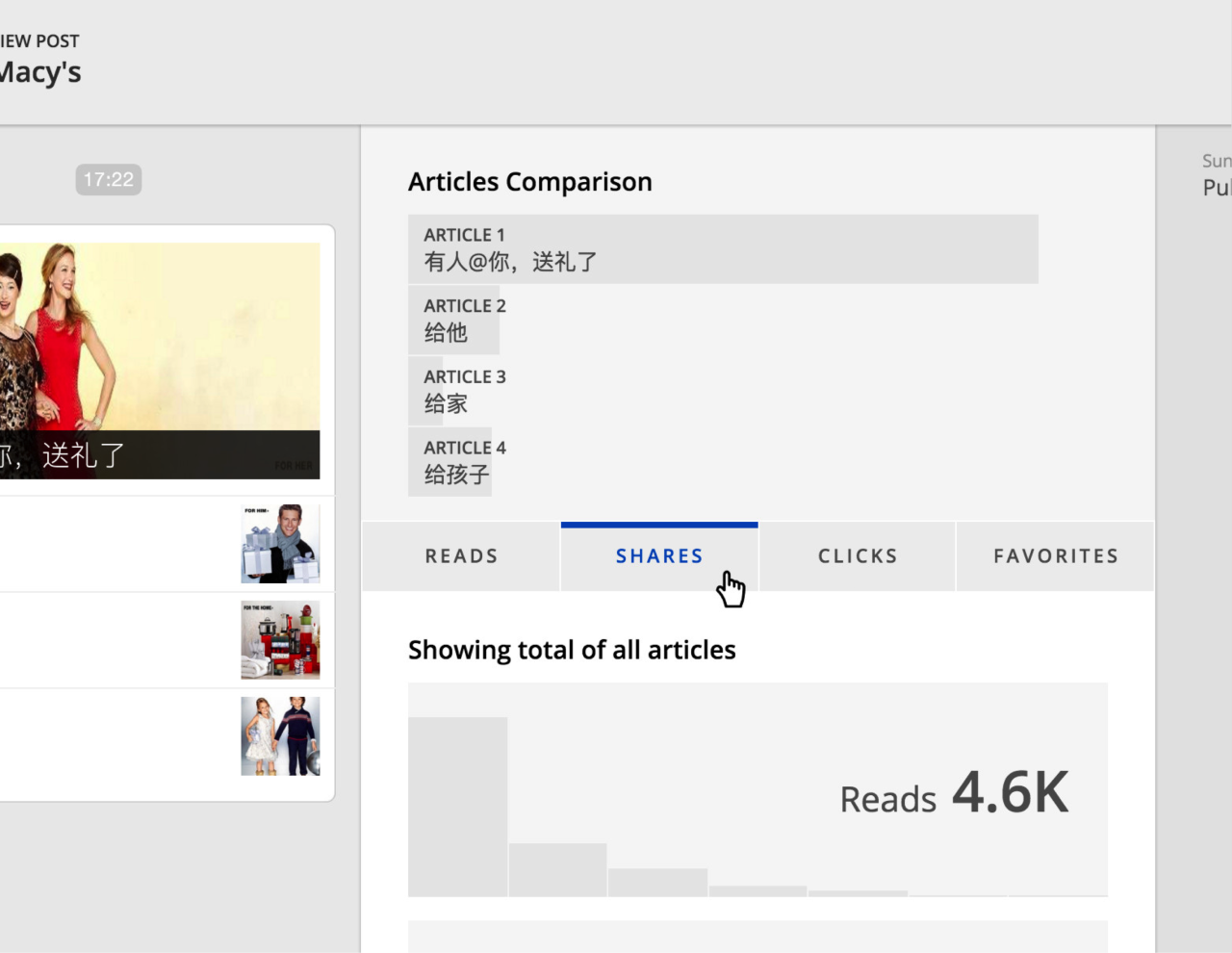 Benefits
As mentioned earlier, this is another step in allowing you to track the performance of your account in greater detail by looking at the stats per post, per article, and per day. You're now able to find out in great specificity what is working and what isn't, accelerating your path to making better decisions.
Going Forward
We're already hard at work, pressing forward to give you more quality and actionable data. We're continuing to work on improving how we collect and present our data to our users, keeping usability at the core of KAWO. Gaining a greater level of detail in the data will allow us to perform analysis and provide users with actionable reports and suggestions in the near future. If you'd like to schedule a demo to see how KAWO can help you, email [email protected]