Yesterday morning around 11 AM, Kobe Bryant made his return to the Chinese microblogging platform, Sina Weibo. The NBA star personally writes his own content on the account and has been an active user in the past as well, always causing Weibo's huge population of NBA fans to get up in a wild bout of reposts and commenting.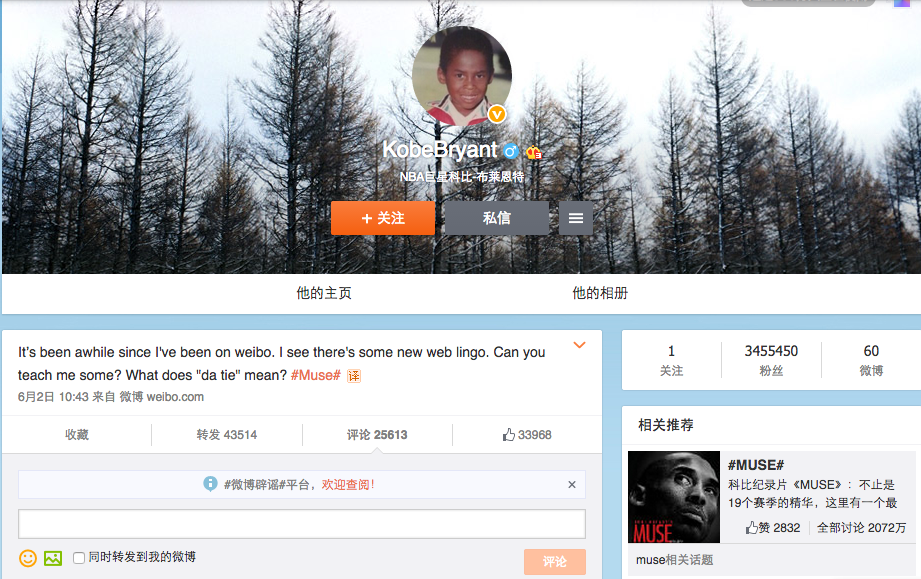 Has Kobe been learning Chinese? Online chatting with a few of his 3.4 million Weibo followers? Regardless, the term he was enquiring about, da tie(打铁), is used to refer to the moment when a beautifully thrown shot bounces off the rim. A little wink wink nudge nudge from Kobe.
He also added the hashtag "#Muse#", which is the name of an upcoming documentary on his legendary career in the NBA. Even though he's not in the playoffs this year, it's nice to see a 5-time NBA Champion and the highest paid player in the NBA making smart moves off the court.
Kobe is among other wise, brand-savvy western mega-celebrities actively engaging with Weibo users in recent weeks, head nod Tim Cook, Ellen Degeneres, Jim Parsons.