In-depth Data Insights Strengthen
Brand Value and Brand Concept
KAWO provides luxury brands with a powerful social media management and data insight platform. Aside from streamlining the collaboration of both internal and external teams, KAWO helps luxury brands gain insights into consumers via multi-dimensional metrics, accumulate brand assets, and continuously strengthen the brand value and brand concept on China social media platforms.
The Luxury Industry in China
11%
Compound Annual Growth Rate
The global luxury goods market is expected to increase to USD444.7 billion by 2025.
Source: PwC
25%
Asia Pacific Dominates Global Luxury Goods Market Share
The Asia-Pacific region has become an important growth engine for the global luxury goods market. It is expected that China's luxury goods market will reach RMB 816 billion in 2025.
Unique and Nuanced Approach to Social Media
In the world of luxury consumption, where demand is on the rise even faster than income in the Chinese market, the uniqueness, exclusivity, and symbols of wealth and individuality have evolved as integral elements of social media marketing that simply can't be overlooked.
Challenges Facing Marketing Teams in Luxury Industry
Data Collection Inconvenience
Data collection and reporting often come from multiple agencies which can result in fragmented, inconclusive reporting and ultimately an inability to make informed decisions on content strategy.
Competition for Resources
Marketing and e-commerce teams of various business units are often assigned to a single brand's social account which means competing for release resources — especially during holidays.
Fragmented Content Insights
The vast amount of scattered data and different teams makes it challenging to collect and assess the impact of content. This hampers the ability to gather insights for impactful content production and marketing strategies.
Protecting Brand Asset
The team places a high value on brand asset management but lack an effective solution to share and edit materials. They are unwilling to risk brand reputation due to any mistakes made by their execution staff.
Language Barrier
Content and platform interfaces in Chinese make it hard for headquarters to understand their own social media performance and market trends. This puts additional work on the local marketing team to generate bilingual social media reports.
Inefficiencies in Managing Shared Media Assets
Media assets from overseas social media channels cannot be used directly. Precious time is wasted re-uploading to third-party platforms and then downloading internally.
KAWO Solution
As a first-class China social media management platform, KAWO empowers luxury brands to streamline internal and external collaboration with a one-stop content planning, creating and approving platform. Luxury brands are able to gain in-depth insights into user preferences and industry trends based on social performance, thus accumulate brand assets in long-term practice.
Real-time Account Data
✔️ Access multi-dimensional account data  to visualize overall account and single post performance across all China social channels in one dashboard
✔️ Various metrics and visual charts help teams instantly gain clear insights into patterns and trends of content, helping them to plan an execute more effective content strategies
✔️ Bilingual data reports exported with only one click, available in different formats for reviewing and sharing to save your time and effort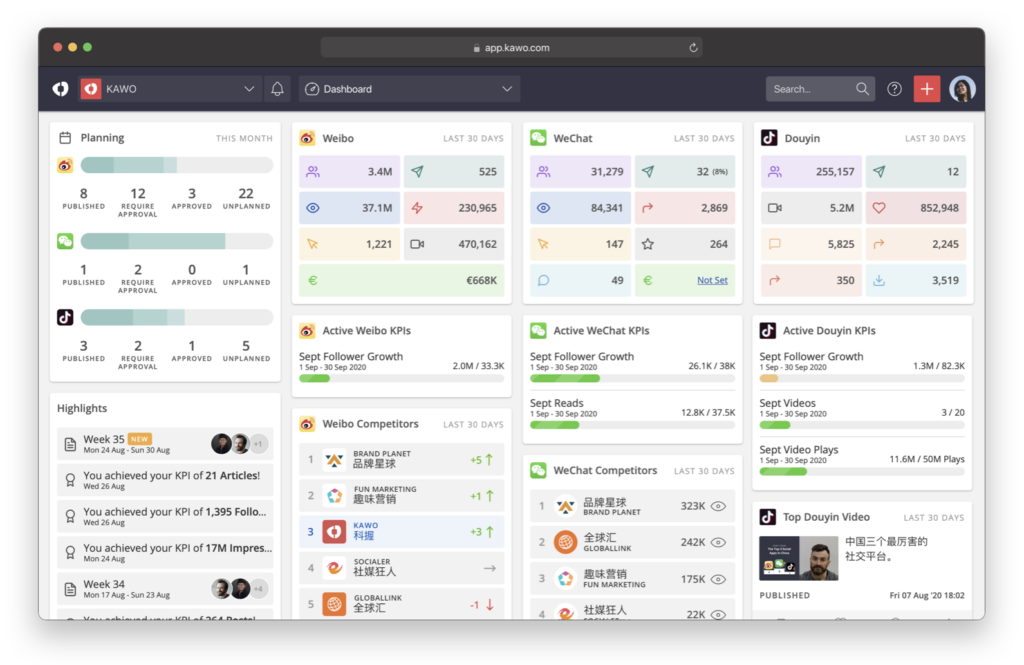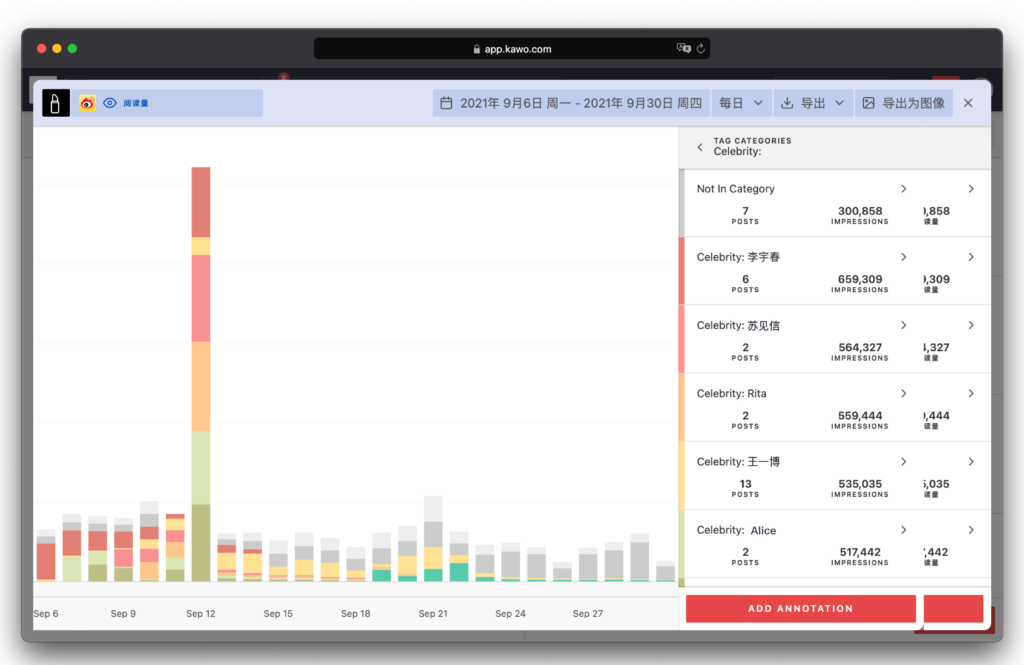 In-depth Content Insights
✔️ Visualize social media content performance, gain instant insights into the most popular content across different social channels by customized categories
✔️ Recreate engaging, viral content with ease by examining user preferences, specific topics, keyword patterns, and interactions with celebrities
✔️ Efficiently support marketing strategies across various social channels and achieve data-driven goals by understanding what KPIs drive business results linked to your bottom line
Competitor Analysis
and Trend Tracking
✔️ Real-time competitor ranking, various metrics help monitor competitors' updates for comparison
✔️ Identify the latest trends and discover new opportunities through monitoring competitors' growth
✔️ Word cloud visualizes hot topics to help teams immediately recognize gaps in the market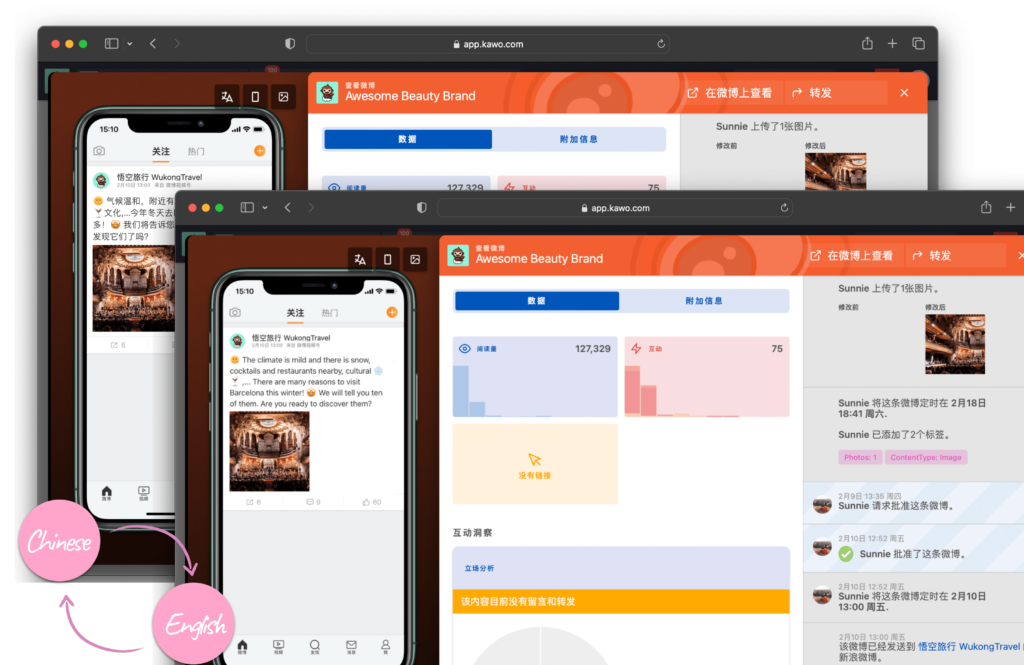 Clear Process for Seamless Collaboration with Overseas teams
✔️ Clear planning and scheduling tool available to unlimited user
✔️ Transparent collaboration across teams in real time keeps all stakeholders up-to-date with the latest progress and action items
✔️ Multi-step, clear approval function ensures processes are followed and nothing gets lost in messy email chains
Luxury Brands Always See Positive Impacts Instantly
After Leveraging KAWO
Save valuable time
Optimize repetitive manual tasks: data collection and reports generation, backend login and channel switching, collaboration across teams, best time to post, etc.
Category KAWO Has Covered
Fashion
Leather
Jewelry
Watch
Beauty
Connect With Social Experts >>
✔️ One-on-one communication and evaluation of social media status by our commercial team
✔️ Unique social media management solution and industry case sharing customized for your business
✔️ No commitment required