Boost Your Brand with
Comprehensive Social Media Insights
KAWO provides shoes and apparel brands with a powerful social media management and data insights platform designed to make team collaboration smooth and efficient. With KAWO, you'll tap into a treasure trove of data that reveals all kinds of things about your customers.
The Shoes and Apparel Industry in China
¥598.9 Billion
Estimated China Sport Shoes and Apparel Market Scale in 2025
China's sports shoe and apparel retail market has seen remarkable growth! The shoes and apparel market maintained a compound annual growth rate of over 10% from 2011-2021, much higher than the 6.1% compound growth rate of the whole apparel market.
Source: Essence Securities, iResearch
National Fitness Boom
Fitness Plan for All
The National Fitness Plan (2021-2025) set forth by the State Council ignited a nationwide passion for sports and boom in the fitness industry encompassing everything from gear, gadgets and apparel to parks, fitness centers, and services.
Diversity & Speciality
Evolution of Consumer Demand
As China's GDP rises and quality of life continues to improve, consumers are getting more involved in various sports and fitness activities and related consumption habits. This is leading to a shift in consumer demand towards variety and unique styles.
Challenges Facing Marketing Teams
in the Shoes and Apparel Industry
Data Collection Inconvenience
Marketing team is usually short-handed, thus data collection and reporting highly rely on agencies. The team is having trouble obtaining data over whole time period efficiently and frequently.
Messy Approval Process
Official posts usually require approval from team members seated across regions and departments. Internal communication and collaboration processes are time-consuming and inefficient resulting in lengthy delays, miscommunication and things falling through the cracks.
Evaluating Celebrity Marketing ROI
Due to the vast amount of scattered data across platforms, assessing the impact of celebrity marketing and extracting insights from social media data to inform content production and marketing strategies can be challenging and time consuming.
Protecting Brand Assets
The team places a high value on brand asset management but lack an effective solution to share and edit materials. They are unwilling to risk brand reputation due to any mistakes made by their execution staff.
Perception and Language Barrier
Content and platform interfaces in Chinese make it hard for headquarters to understand their own social media performance and market trends. This puts additional work on the local marketing team to generate bilingual social media reports.
Inefficiencies in Managing Shared Media Assets
Media assets from overseas social media channels cannot be used directly. Precious time is wasted re-uploading to third-party platforms and then downloading internally.
KAWO Solution
As a first-class China social media management platform, KAWO empowers shoes and apparel brands to streamline internal and external collaboration with a one-stop content planning, creating and approving platform. With KAWO, shoes and apparel brands now are able to secure brand assets and improve appetency and resilience of the brands through user preference insights from in-depth social data.
Real-time Account Data
✔️ Access multi-dimensional account data to visualize overall account and single post performance across all China social channels in one dashboard
✔️ Various metrics and visual charts help teams instantly gain clear insights into patterns and trends of content, helping them to plan an execute more effective content strategies
✔️ Bilingual data reports exported with only one click, available in different formats for reviewing and sharing to save your time and effort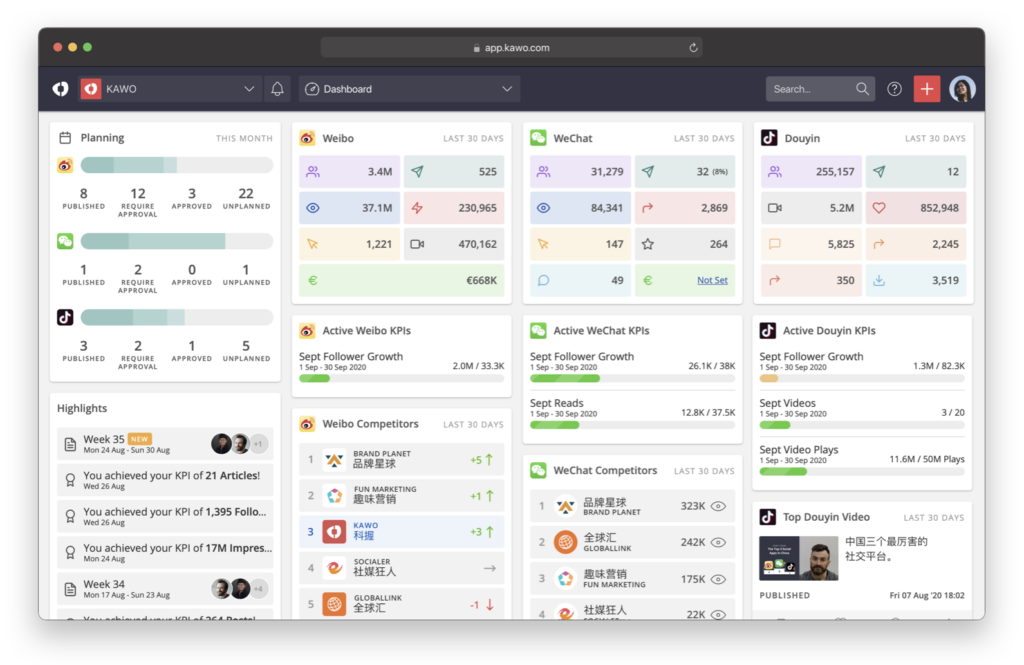 Clear Process for
Seamless Collaboration
✔️ Clear planning and scheduling tool available to unlimited users
✔️ Transparent collaboration across teams in real time keeps all stakeholders up-to-date with the latest progress and action items
✔️ Multi-step, clear approval function ensures processes are followed and nothing gets lost in messy email chains
In-depth Content Insights
✔️ Visualize social media content performance, gain instant insights into the most popular content across different social channels by customized categories
✔️ Recreate engaging, viral content with ease by examining user preferences, specific topics, keyword patterns, and interactions with celebrities
✔️ Efficiently support marketing strategies across various social channels and achieve data-driven goals by understanding what KPIs drive business results linked to your bottom line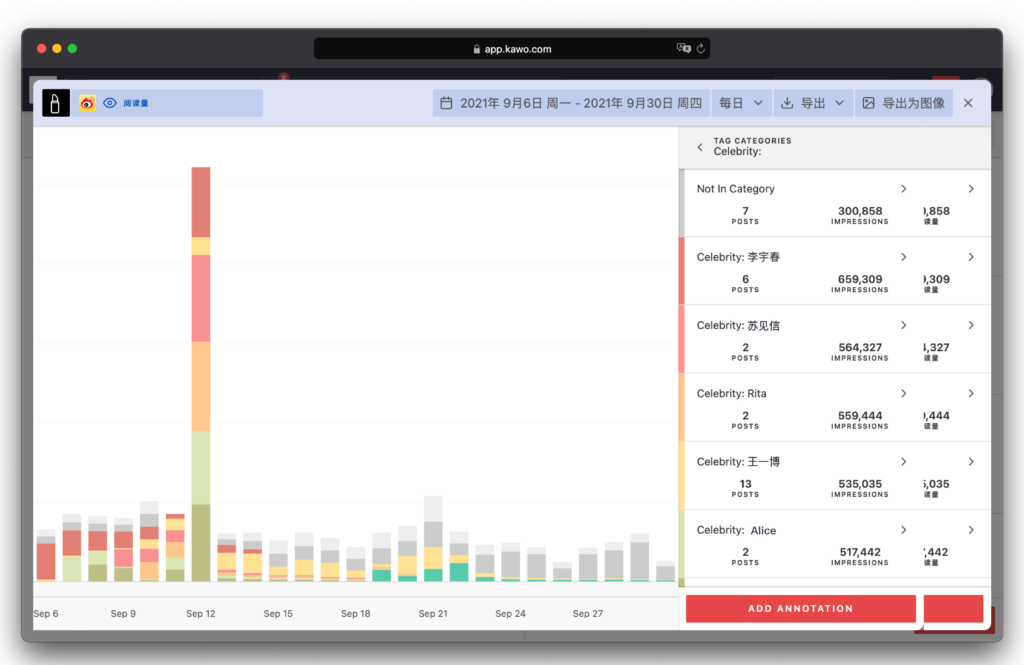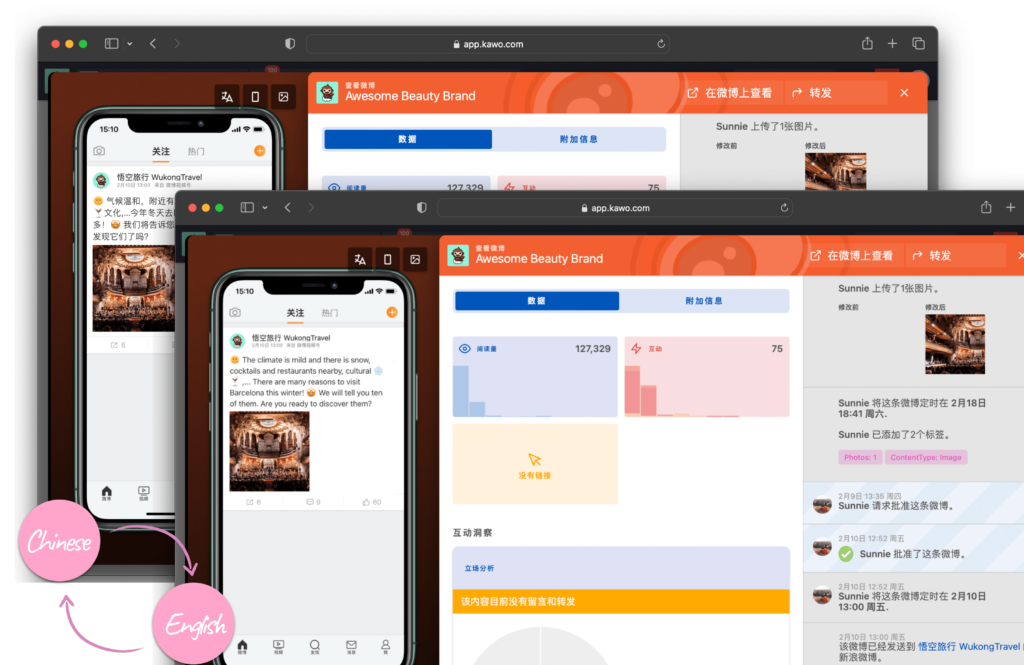 Transparency and Understanding for Headquarters
✔️ One click to switch between and export Chinese and English reports
✔️ Metrics and data in English help Headquarters and overseas teams gain transparency on performance and build trust with Chinese team
✔️ Global assets translation can provide quick inspiration for content localization
Shoes and Apparel Brands Always See Positive Impacts Instantly After Leveraging KAWO
In-depth insights to user preference
Have a clearer picture and deeper insights based on data about what users would like to see most, supporting social media strategy
Seamless internal and external collaboration process
Real-time and transparent collaboration across teams from planning, creating to approval efficiently and orderly
Connect With Social Experts >>
✔️ One-on-one communication and evaluation of social media status by our commercial team
✔️ Unique social media management solution and industry case sharing customized for your business
✔️ No commitment required