Enhance Your Brand's Impact in China
with Streamlined Social Media Management
KAWO provides travel and hospitality brands the tools they need to consistently stand out on China social media. The KAWO platform not only makes teamwork a breeze but also empowers travel and hospitality brands with valuable consumer insights, an easy-to-use asset management tool, and precise, collaborative social channel management.
The Travel and Hospitality Industry in China
Restored Consumers Confidence
During Labor Day in 2023 the number of tourists and the income from tourism bounced back impressively from the previous year, even surpassing the pre-pandemic levels. This data is a positive sign consumer confidence is rising and Chinese consumers are eager to spend on travel and hospitality again.
Favorable Policies
The General Office of the Ministry of Culture and Tourism issued the "Notice on Organizing and Conducting Cultural and Tourism Consumption Promotion Activities in 2023." In response, local cultural and tourism bureaus have been very proactive, introducing a slew of fresh projects, new services, and innovative business approaches to pave the way for cultural and tourism growth. Simultaneously, they've introduced a range of special offers, like discounted tickets to attractions and cultural and tourism coupons, all aimed at benefiting consumers.
Emerging Tourism Trends
A new trend of "Tourism Plus" is emerging, combining tourism with other consumption activities such as "tourism + food", "tourism + culture", "tourism + sports", "tourism + cultural heritage" and "tourism + countryside". This new way to activate consumption activities has fueled the whole tourism industry.
Challenges Facing Marketing Teams Face
in the Travel and Hospitality Industry
Budget & Manpower Limits
The marketing team is often short-handed and restricted on budget. Online and offline events are usually managed and operated by internal teams, and thus the time and budget to focus on social media are limited accordingly.
Messy Approval Process
Official posts usually require approval from team members seated across regions and departments. Internal communication and collaboration processes are time-consuming and inefficient resulting in lengthy delays, miscommunication and things falling through the cracks.
Inefficient Data Collection
Collecting data from your own account and that of competitors could be very time-consuming when done manually. As a result, reports often lack high-level insight sufficient enough to support content strategies.
Protecting Brand Assets
The team places a high value on brand asset management but lack an effective solution to share and edit materials. They are unwilling to risk brand reputation due to any mistakes made by their execution staff.
Perception and Language Barrier
Content and platform interfaces in Chinese make it hard for headquarters to understand their own social media performance and market trends. This puts additional work on the local marketing team to generate bilingual social media reports.
Inefficiencies in Managing Shared Media Assets
Media assets from overseas social media channels cannot be used directly. Precious time is wasted re-uploading to third-party platforms and then downloading internally.
KAWO Solution
As a first-class China social media management platform, KAWO empowers travel and hospitality brands to streamline internal and external collaboration with a one-stop content planning, creating and approving platform. Travel and hospitality brands are able to gain in-depth insights into user preferences, hence improve brand influence based on refined operations on social channels.
Real-time Account Data
✔️ Access multi-dimensional account data to visualize overall account and single post performance across all China social channels in one dashboard
✔️ Various metrics and visual charts help teams instantly gain clear insights into patterns and trends of content, helping them to plan an execute more effective content strategies
✔️ Bilingual data reports exported with only one click, available in different formats for reviewing and sharing to save your time and effort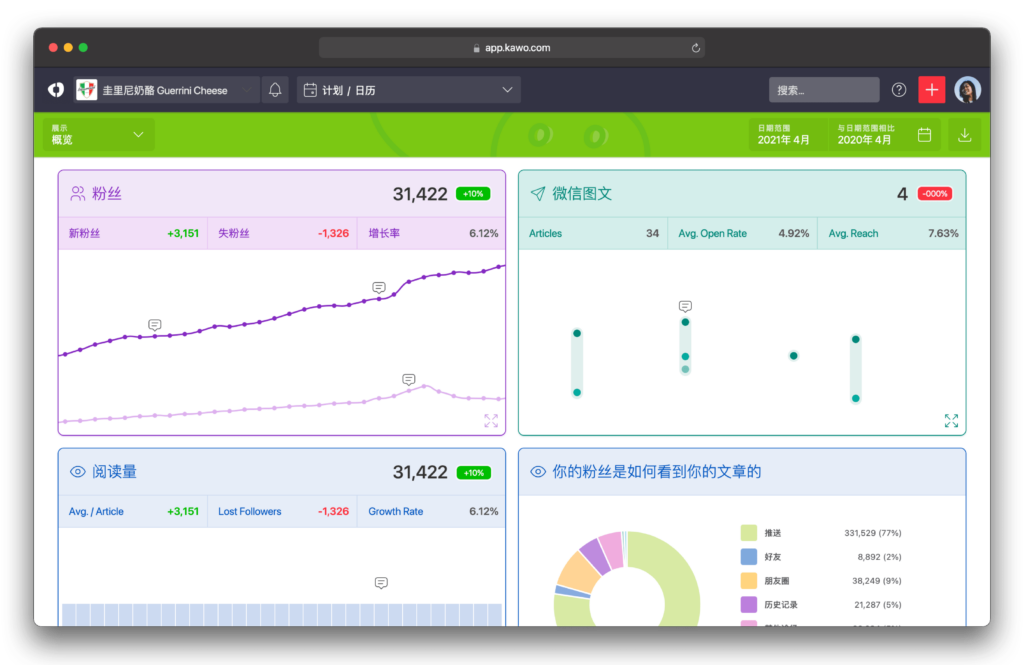 Clear Process for
Seamless Collaboration
✔️ Clear planning and scheduling tool available to unlimited users
✔️ Transparent collaboration across teams in real time keeps all stakeholders up-to-date with the latest progress and action items
✔️ Multi-step, clear approval function ensures processes are followed and nothing gets lost in messy email chains
In-depth Content Insights
✔️ Visualize social media content performance, gain instant insights into the most popular content across different social channels by customized categories
✔️ Recreate engaging, viral content with ease by examining user preferences, specific topics, keyword patterns, and interactions with celebrities
✔️ Efficiently support marketing strategies across various social channels and achieve data-driven goals by understanding what KPIs drive business results linked to your bottom line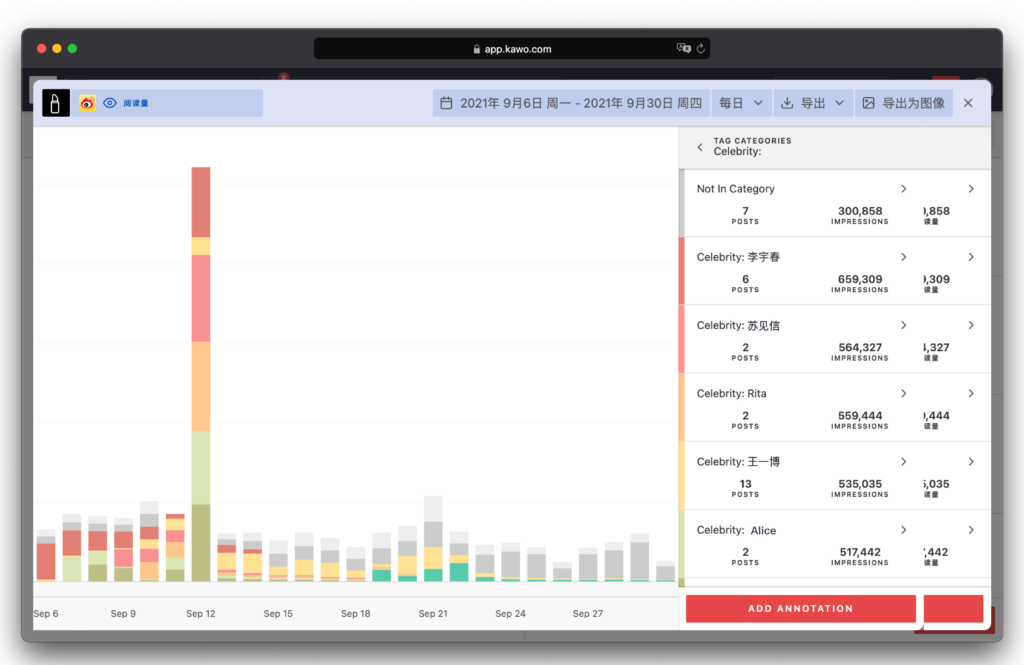 Travel and Hospitality Brands Always See Positive Impacts Instantly After Leveraging KAWO
Save valuable time
Optimize repetitive manual tasks such as data collection and reports generation, communication and collaboration, and put effort into high value-added work.
Seamless internal and external collaboration process
Real-time and transparent collaboration across teams from planning, creating to approval efficiently and orderly
In-depth insights to user preference
Have a clearer picture and deeper insights based on data about what users would like to see most, supporting social media strategy
Connect With Social Experts >>
✔️ One-on-one communication and evaluation of social media status by our commercial team
✔️ Unique social media management solution and industry case sharing customized for your business
✔️ No commitment required