From first hearing about a brand to becoming a paying customer is always a journey.
A company should choose a range of KPIs that measure different stages of the marketing funnel to ensure it's not losing customers somewhere along the way.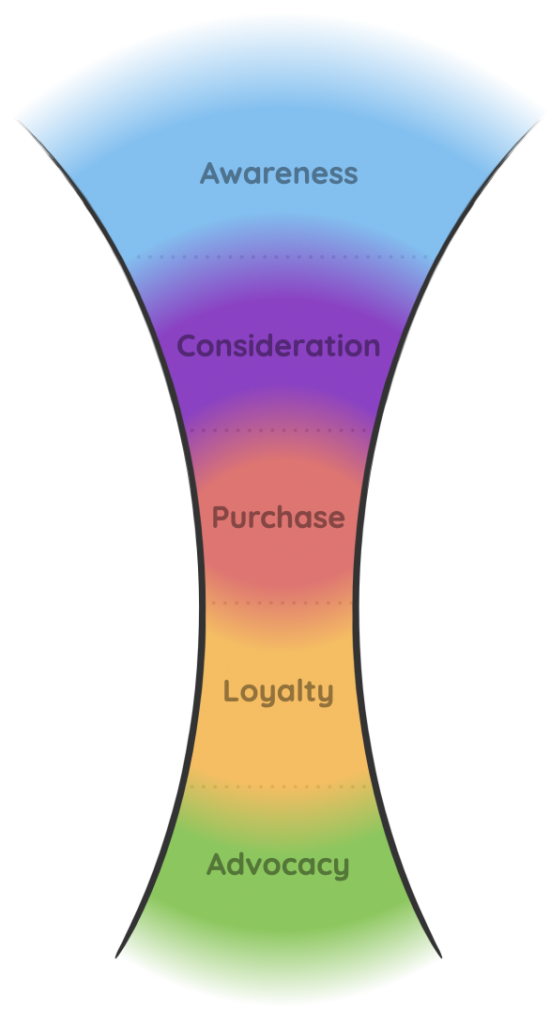 Awareness: Capture the attention of people who have never heard of your brand before and getting them to connect and follow one of your official channels – what do be aware of
Consideration: Build trust with existing followers through informing and educating them about your brand and products – what to be aware of
Purchase: Get customers to the point where they trust you enough to hand over their hard-earned money to your company – what to be aware of
Loyalty: Build a long-term connection with your customers which brings them back to buy again and requires much less effort than acquiring a new customer – what to be aware of
Advocacy: Customers trust you so much that they recommend you to their friends, family and colleagues – what to be aware of
Each marketer's role, or the whole marketing team possibly just focus on one step of
the funnel, so feel free to skip to the part that are most relevant to you.
What to be Aware of When It Comes to the Awareness Funnel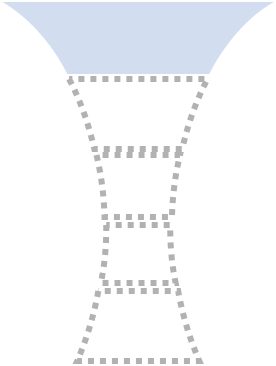 This is where you make people aware of your brand for the first time. The first impression your audience has of your brand will dictate the remaining journey through the funnel.
"We achieved 200% of our social KPI in China, but our sales revenue dropped."
—— GM of an international pet food company
"We tried to increase brand exposure by discussing trendy topics, but later we discovered our audience had a hard time relating our product to our content."
—— Marketing executive from a cosmetic company
"Our China content all achieved high reads and engagement, but we had little to no conversion from social."
——Marketing manager of a British fashion brand
Bigger isn't always better!
It's natural to assume that the more people acquired in the awareness stage, the more conversions there will be, but it can only happen when the audience you gain is the right audience for you.
Whether it's from analyzing your existing performance data on your content and campaigns, conducting surveys and reviews, or even resorting to social listening tools … knowing the desire and needs of your target audience not only keeps them interested but also prevents your brand from wasting resources on people who don't fit your buyer persona and most likely won't ever convert.
Prove the value of social with audience targeting
Getting to know your audience isn't completed in one go, but rather a constant effort to refresh and adjust throughout every opportunity for engagement.
There's no one-size-fits-all marketing formula in this ever-changing world, and it's always necessary for teams to plan, deploy and test different channels and strategies. Under limited marketing resources (which are often in jeopardy when it comes to budget cuts), it's crucial for efficiently to find out which content works the best.
Awareness Is a Constant Drip not a Fire Hose
Scrolling through various content on different platforms, audiences have grown more impatient and fussy on where to spare their limited attention. They've become insensitive to captive ads shoving brand information onto their screen, and irritated by the often rigid promotion of influencer collaborations. Providing an enjoyable experience with your content while subtly embedding your brand DNA to build a lasting connection is always the better way to go.
Believe in the long-term value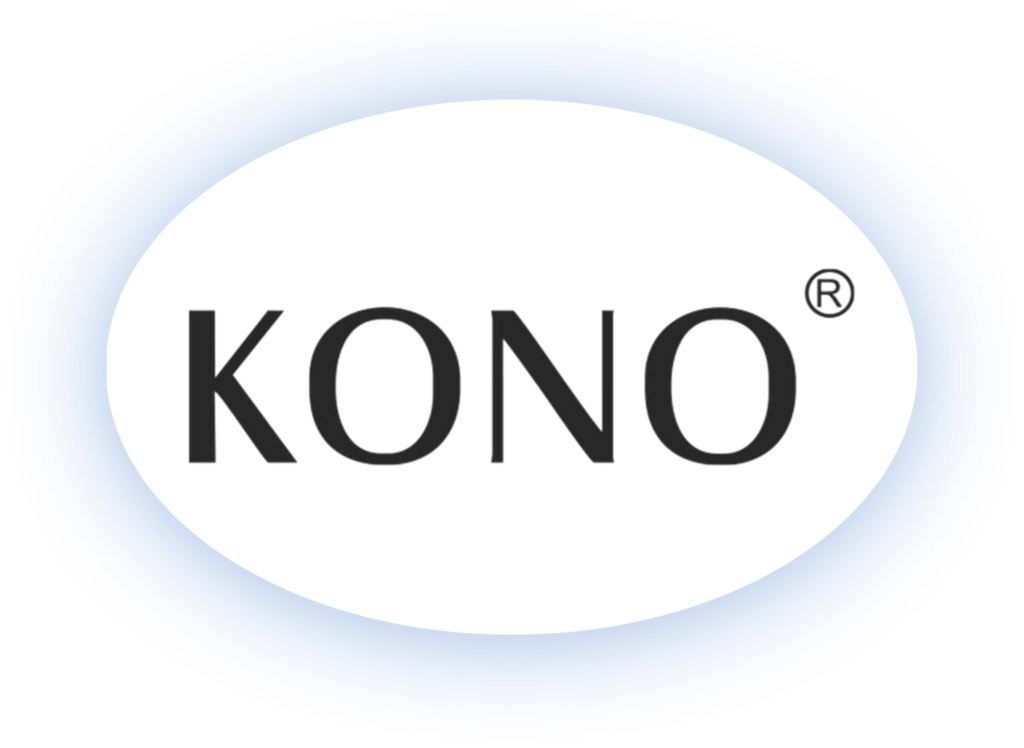 KONO is an affordable luxury personal care brand designed for young females in China. A skit series named "Unfamiliar lover" was released on Douyin at the end of 2022 and reached more than 480 million views. All characters and plots were carefully selected and custom-made for KONO's brand image, tightly connected with brand value.
The overall plot: a humble actress signed a contract to be a rich kid's "contract girlfriend" to fend off his nagging family. They slowly fall in love with each other over time. This type of romance genre is the most popular among the young female generation.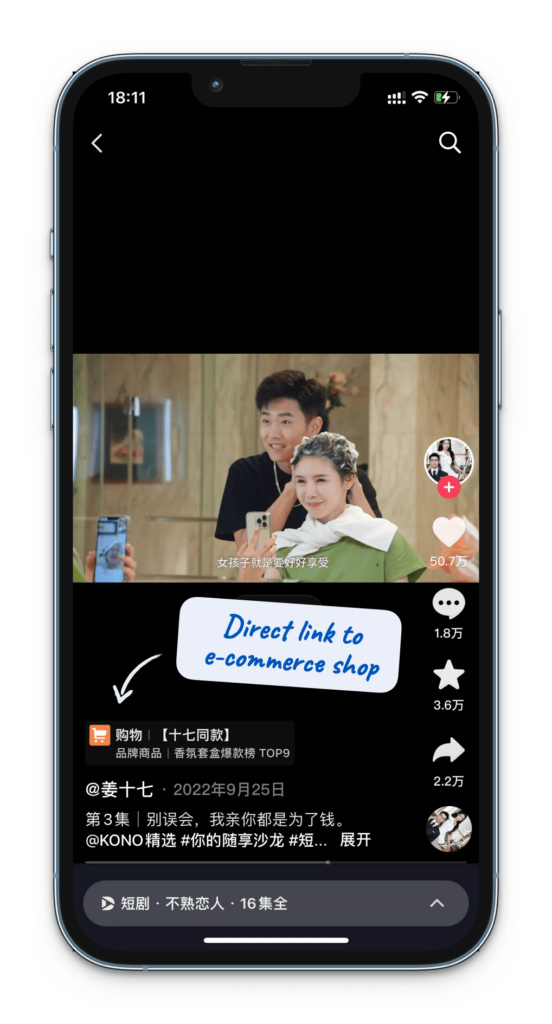 The lead character is an actress who has specific demands with hair care, while her mother opens a high-end hair salon, making KONO's appearance natural, and subtly conveying the brand positioning.
Scenes where KONO appears are all perfectly embedded into the plot. Product placement is during the highlights of the episodes where love among family or couples are expressed, building a positive brand image.
There are Little RED Book posts recommending the show, exposing it to a wider audience even outside of the Douyin universe.
Each skit is 4-5 minutes long, suitable for the fast-paced content consuming rhythm on short-video platforms. In total, 16 episodes were released throughout the whole month, guaranteeing longer-term exposure.
KAWO Insights: The majority of skit series are hosted on the personal account of the actor/actress. Brands can explore possibilities to host content on owned official account, turning skit series into long-term brand assets.
What to be Aware of When It Comes to the Consideration Funnel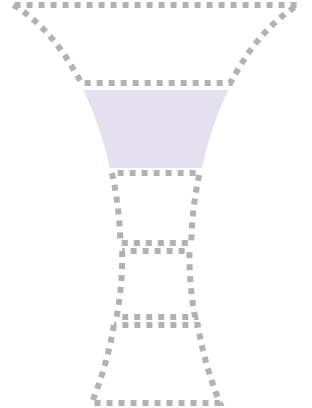 This is where you make people aware of your brand for the first time. The first impression your audience has of your brand will dictate the remaining journey through the funnel.
Use competitor benchmarks wisely and avoid common mistakes
When potential customers compare a brand against other alternatives based on social content, how can marketers tell what sets them apart from competitors to refine their strategy? Tracking and analyzing competitors' performance, and comparing its data to the brand's own data can help.
However, when marketers focus too much on the microscope of numbers and forget to view competitor data correctly, a surprising misstep often happens: Comparing account level data against individual content data. Mixing these two can result in artificial insights. With KAWO, brands can monitor competitors efficiently and accurately. Schedule a demo to learn more.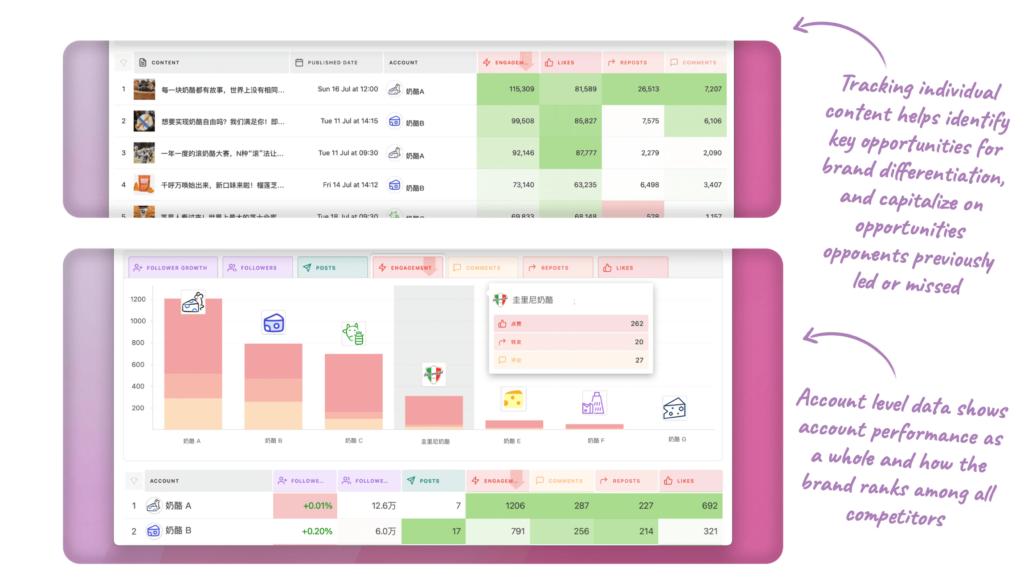 Brands Are Paying More Attention to Cost of Acquiring Loyal Followers
It seems counter-intuitive to mention followers at the consideration stage of the funnel as it's commonly used to measure awareness. However, follower gain is an awareness metric, while follower retention and nurturing often becomes lost in the shuffle and neglected.
Haste makes waste:
A common mistake many marketers make after raising awareness for their brands is moving too quickly to sales without nurturing their audience properly.
Research shows that nurtured leads make 47% larger purchases than non-nurtured leads, and that lead nurturing helps companies generate 50% more sales-ready leads at 33% lower costs. Meanwhile, an estimated 79% of marketing leads never convert into sales, usually due to a lack of nurturing. [S]
Over the years, with content creators flocking to social media, the heated competition for audiences' attention has been making it more difficult to attract followers. Enhancing the loyalty of existing followers has never been more important.
The following graph shows the average follower loss to follower gain ratio by WeChat account type. The higher the number, the more followers chose to unsubscribe from the account.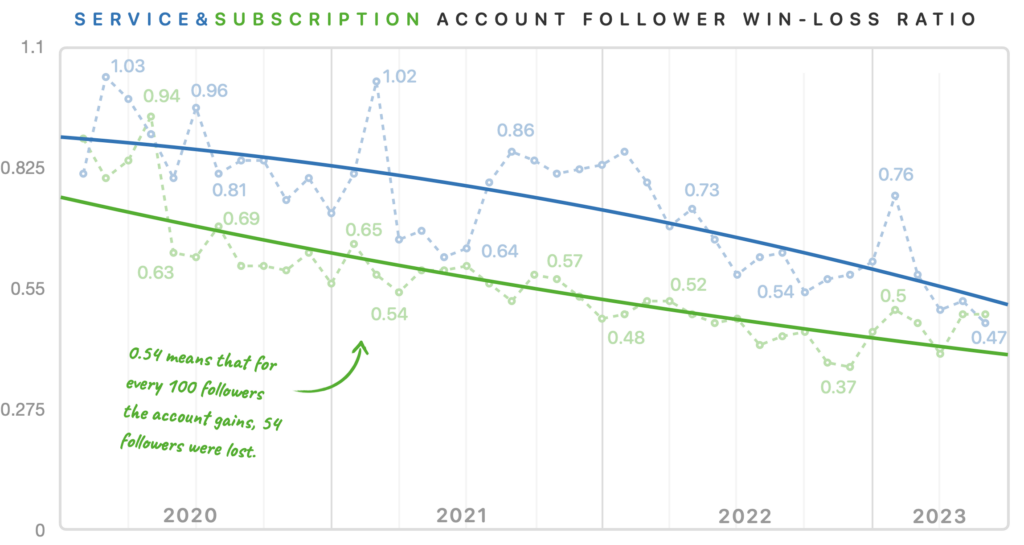 As we can see, the win-loss ratio drops over the years, which means on average, all brands are becoming more efficient in retaining followers. The need to maintain a higher audience retention rate has been widely recognized.
What to Be Aware of When It Comes to the Purchase Funnel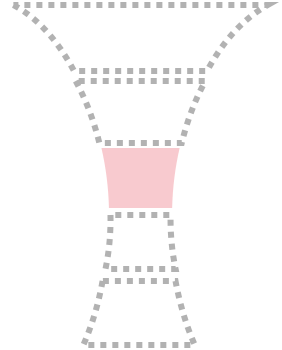 This is the stage where your audience should be convinced to invest in your brand. Are they converting as you expected?
"Half the money I spent on advertising is wasted; the trouble is I don't know which half"
———— John Wanamaker (1838-1922)
It's not just advertising. All marketing efforts face the same ultimate puzzle: what made our audience convert? The average number of touch points before a customer decides to purchase is 8 [S]. The number varies in different products or services, and it's difficult to track the entire online and offline trajectory.
What can we do when it relates to social?
With the once tightly-closed China social ecosystem continuing to open, it's possible to direct traffic between different social channels. However, PIPL is strict and the stakes for violating personal information are high. In addition to social channels' universal mentality of keeping traffic within the platform's own territory, tracking and measuring are not easy, but not impossible. Generally, you have two weapons at your disposal: Link shorteners and link tagging.
NOTE: PIPL (China Personal Information Protection Law) is the new data privacy law in China, targeted at personal information protection and addressing problems with personal data leakage. Additional strict requirements when it comes to data transfer, mandatory requirements on security controls and data localization, and increased penalties and fines on organizations upon violation are anticipated.
What to Be Aware of When It Comes to the Loyalty and Advocacy Funnel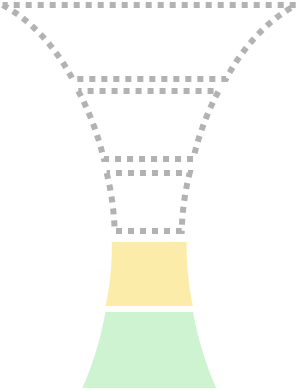 This is where customers are satisfied with their product or service experience all the way from awareness to purchase, and are willing to invest again or recommend your brand in social circles.
Loyalty
It costs companies about 5 to 25 times more to gain a new customer than it does selling to an existing one [S]. In the resource-efficient sense, loyalty can be seen as the follower quality metrics for sales: quality customers will come back. 
Advocacy
Many actions related to advocacy happen away from social platforms, and most things to track are not social metrics. Yet we leave it in as it often goes hand-in-hand with loyalty and is vital for a brand's sustainable and long-term growth.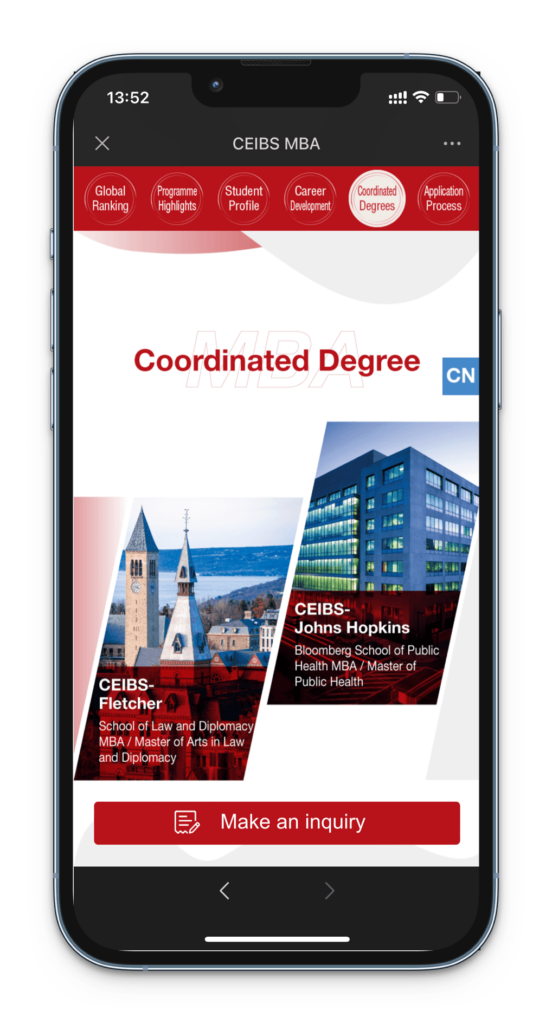 Loyalty and Advocacy often go hand-in-hand
For some product/services, customers show their loyalty through advocacy. For example, when an university reached and educated students on social, and then successfully convinced them to attend a CEIBS MBA program, there's no repurchase option afterwards as most people only do it once. What's left is advocacy, where university alumni promote and recommend. 
Potential Solution for Optimizing Your Retention
Strive for earned advocacy: Be better at turning an inclination to recommend into an actual action. If existing customers are satisfied with the brand already, all they need is a little push.
For example: if you recommend Tesla to your friends and family, both parties will be rewarded.
However, rewards, benefits or discounts are added value, and shouldn't be the deciding factor (what sets you apart from the competitors) for customers to move further down the funnel. Of course, it's less likely to happen for an expensive piece of product like Tesla, but for cheaper consumer products, placing incentives should be more nuanced.
If you are interested in more detailed breakdown of metrics and our first-hand interviews with marketers and professionals, feel free to download KAWO's Guide to China Social Metrics to learn more.