Last Thu
KAWO Calculated Metrics Explained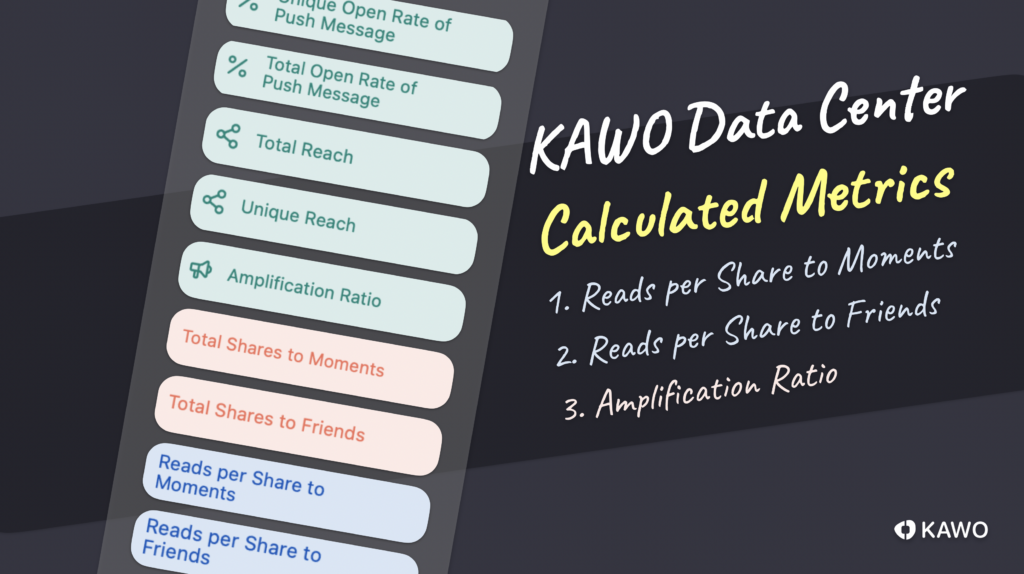 Marketers in China often zoom in on "Open Rate" as a vital gauge for WeChat Official account performance. Another common goal? Growing that follower base.
While open rate offers insights into your existing followers, it doesn't necessarily align with gaining new ones. The magic happens when your audience shares your content, drawing in fresh followers. WeChat users wield the power to share content on their Moments or send it directly to friends via chat.
Here, KAWO steps in to track how frequently your content gets shared, estimating the average number of new followers gained through these shares. Plus, we've got a secret weapon: the "Amplification Ratio". This ratio reveals how your content spreads beyond your current followers, potentially reaching new audiences.
According to KAWO database, on average, 65% of readers read your content from Push Messages, around 6% through shared to moments and 8% via shared by a friend in chat. A quick glance might make you think "Sharing to Friends" is more effective than "Sharing to Moments". But, it's more likely for people to share content with friends than on their WeChat Moments. Our data shows roughly 77% of sharing happens with Friends and only about 23% with Moments.
Let's dive into the metrics: