Mon 31 Jul
How to Reach the Untapped Market on WeChat and Channels
In recent years, the open rate for WeChat Official Accounts ("OA") has been declining due to fierce competition for readers' attention. However, this is not the case for accounts with mostly senior followers who tend to stay loyal and focused.
The perfect place to engage directly with seniors
Seniors (51 years and older) account for 23% of WeChat's 1.31 billion monthly active users, [S]. WeChat's extensive list of features designed for better communication, content sharing and entertainment makes it the most popular social media platform for seniors in China.
Wonderland for online community building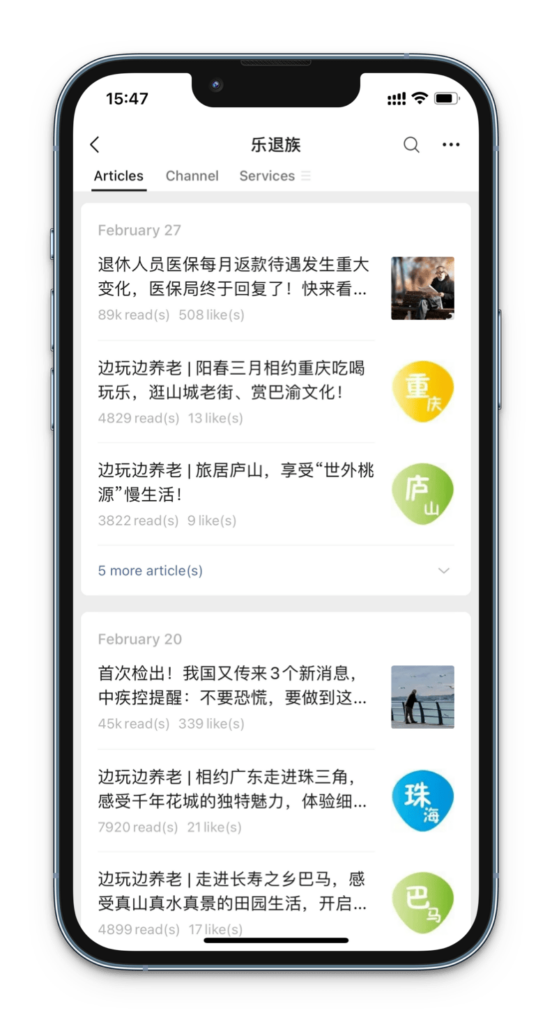 "乐退族" LORTUI (LOve ReTirement yoU & I ) is a local company focusing on education, culture and domestic travel services for seniors.
Long-term senior followers of its WeChat OA have helped the brand maintain 30k+ average reads for each main article. In addition, articles continue to receive views long after publishing, signaling that followers continue to grow and that users continue to come back to this channel for news and info.
The Boom of WeChat Channels
Modeled after "Dou Kuai" and launched in 2020, Channels was not originally considered a serious competitor, yet just 2 years later, its video views have increased by 200%, and live-stream views increased by 300%. The number of Channels' content creators with 10k+ followers also increased by 308% [S].