There is a high chance your brand is missing out on China's largest-growing consumer group… And no, it's not Gen Z
This group is expected to contribute to a third of China's GDP in the next 30 years, rising from 5.9 trillion in 2021 to 106 trillion by 2050 —— they are seniors, the fastest-growing consumer group in modern China.
However, the outdated notion that seniors are reluctant to spend prevails — making this a market ripe for savvy brands to capitalize on. Little effort has been put into studying this group's needs and behavior changes. Their potential consumer demands are a huge opportunity for those brands who start paying attention – so we made an entire "Social Media Marketing to Seniors in China" guide for you!
Seniors' Potential on Social
30.8% of China's 1.07 billion netizens are over 50 years old, and age isn't slowing them down anytime soon. They are actively engaging in social media which capture most of seniors' attention online. Most online activities seniors engage in take place on social media apps, including instant messaging, short video and news feed.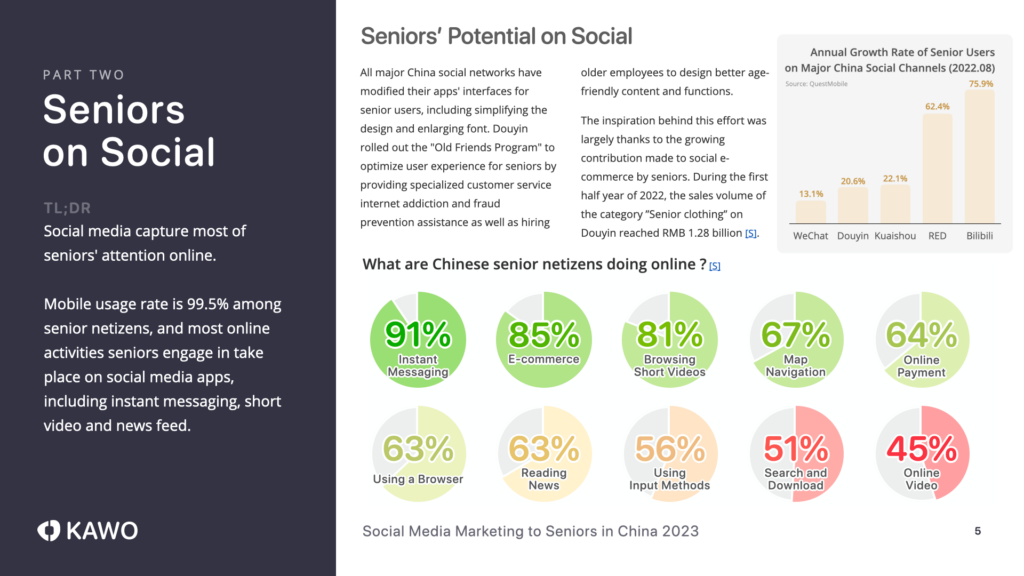 Online transaction volume made by senior citizens has grown 3 times in the first 8 months of 2022 compared to 2021. In recent years, social media usage and purchasing power of seniors have increased exponentially, which inspired China social networks to modify their apps' interfaces for senior users.
Deploy Effective Strategy on Different Platforms
Brands usualy deploy different marketing strategies on different social media platforms. For example, catering to the interest-based Douyin algorithm, collaborating with influencers on live commerce and shoppable videos is usually the most efficient way to reach a target audience and drive sales. However, the optimal solution for aging-friendly products might surprise you.
This guide will walk you through WeChat Channels, Douyin, Kuaishou, Little Red Book as well as Bilibili, discussing the unique solution to capture senior market on different social ecosystems.
As the world economy and technology continue to rapidly evolve, it's important to maintain a long-term vision, learn to take a step back, and appreciate the value hidden in plain sight.
Is your brand missing out on this opportunity? To assess the opportunities for your brand, our latest guidebook covers:
1)Evolution of China's aging population and what makes them unique today
2)Differences in mentality, consumer behavior and purchasing habits among seniors
3)Behaviors and spending potential of seniors on China's biggest social commerce platforms
4) The opportunities to engage seniors on China's biggest social media networks such as WeChat, Douyin, Kuaishou, Bilibili and Xiaohongshu
5) Case studies to highlight how brands should deploy an effective strategy to capture the senior market
Download this Guide Now: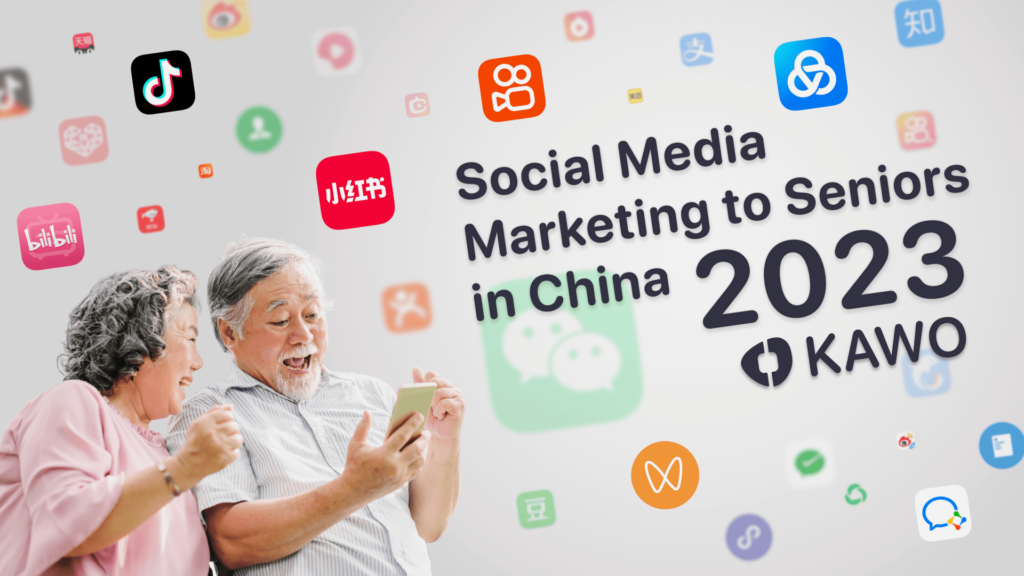 Need help managing your brand's social media platforms?
Request a demo here to learn more. 🙋🏻