Gain Advantage in
a Highly Competitive Market
with Comprehensive Data Insights
KAWO offers a robust social media management and data insight platform tailored for food and beverage brands. By seamlessly integrating social media channels of sub-brands under one roof, KAWO equips food and beverage brands to delve deep into user preferences and industry trends. With access multi-dimensional metrics, you'll be well-prepared to outshine your competitors in China's ever-evolving Food and Beverage market.
The Food and Beverage Industry in China
New Consumption Habits
The rise of Chinese consumers' disposable income has driven an increase in food and beverage consumption resulting in more opportunities for brands to carve out market share.
Move to Online Creates More Opportunities
The extension of the food and beverage industry onto online platforms has expanded consumption scenarios, resulting in more opportunities for brands to connect with and create experiences for customers. 
Strong IPs Offer Unique Collaboration Opportunities
IP collaboration products with fancy packaging design drive more traffic to brands and provide brands with new and innovative ways to surprise and delight customers, generating awareness and loyalty.
Challenges Facing Marketing Team
in the Food and Beverage Industry
Lack of Centralized Data Collection and Reporting System
Data collection and reporting often comes from multiple agencies due to various sub-brands or business units which can result in fragmented, inconclusive reporting and ultimately an inability to make informed decisions on content strategy.
Competition for Resources
Marketing and e-commerce teams of various business units are often assigned to a single brand's social account which means competing for release resources — especially during holidays.
Fragmented Content Insights
The vast amount of scattered data makes it challenging to assess the impact of content, particularly when it comes to celebrities' involvement on social media. This hampers the ability to gather insights for impactful content production and marketing strategies.
Limited Competitor Insights
Marketing team lacks an efficient solution to monitor competitors and the latest industry trends to obtain insights in-line with the rapid changes in the market resulting in missed opportunities to be a first-move and gain competitive advantage.
Language Barrier
Platform interfaces in Chinese make it hard for headquarters to understand their own social media performance and market trends. This puts additional work on the local marketing team to generate bilingual social media reports.
Inefficiencies in Managing Shared Media Assets
Media assets from overseas social media channels cannot be used directly. Precious time is wasted re-uploading to third-party platforms and then downloading internally.
KAWO Solution
As a first-class China social media management platform, KAWO empowers food and beverage brands with a one-stop content planning, creating and approving platform. With KAWO, food and beverage brands are able to gain insights from competitors and industrial trends and obtain competitive advantage based on social performance and user preference.
Real-time Account Data
✔️ Access multi-dimensional account data to visualize overall account and single post performance across all China social channels in one dashboard
✔️ Various metrics and visual charts help teams instantly gain clear insights into patterns and trends of content, helping them to plan an execute more effective content strategies
✔️ Bilingual data reports exported with only one click, available in different formats for reviewing and sharing to save your time and effort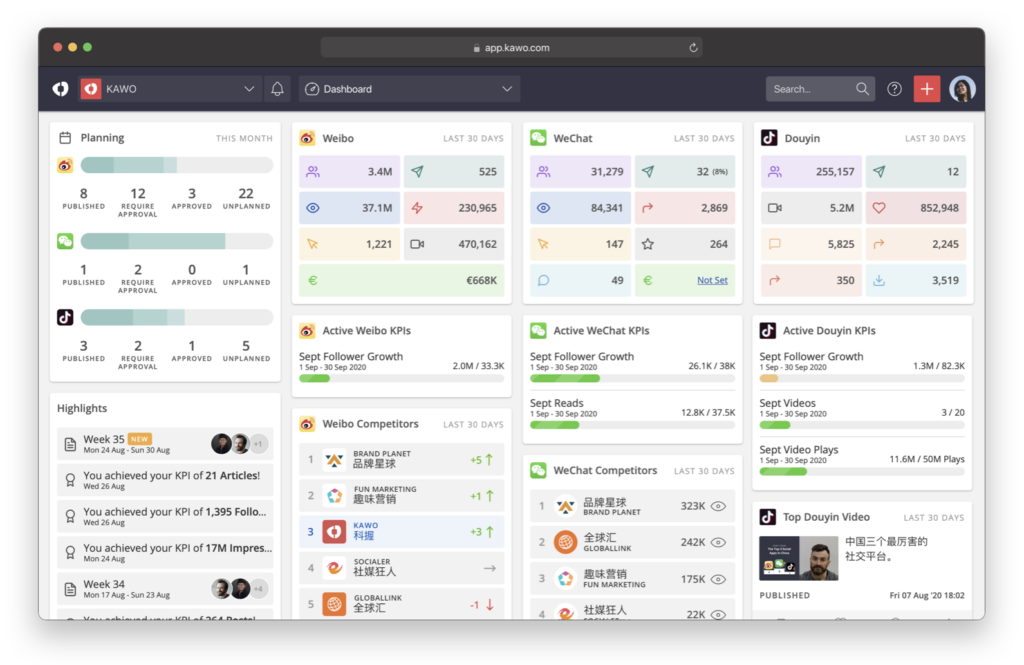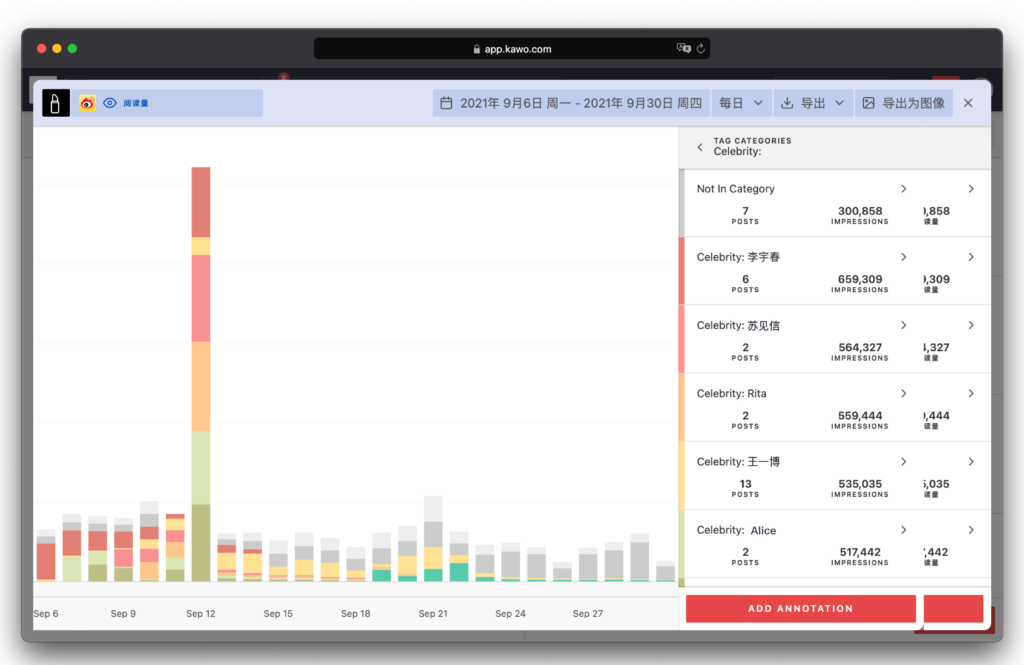 In-depth Content Insights
✔️ Visualize social media content performance, gain instant insights into the most popular content across different social channels by customized categories
✔️ Recreate engaging, viral content with ease by examining user preferences, specific topics, keyword patterns, and interactions with celebrities
✔️ Efficiently support marketing strategies across various social channels and achieve data-driven goals by understanding what KPIs drive business results linked to your bottom line
Competitor Analysis
and Trend Tracking
✔️ Real-time competitor ranking, various metrics help monitor competitors' updates for comparison
✔️ Identify the latest trends and discover new opportunities through monitoring competitors' growth
✔️ Word cloud visualizes hot topics to help teams immediately recognize gaps in the market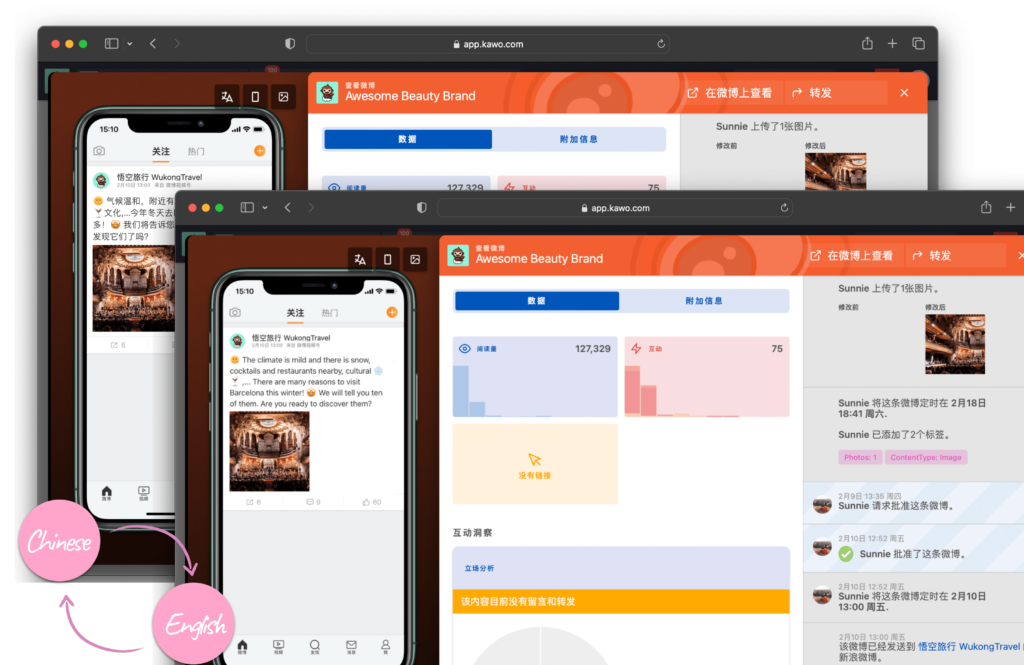 Clear Process for Seamless Collaboration with Overseas teams
✔️ Clear planning and scheduling tool available to unlimited users
✔️ Transparent collaboration across teams in real time keeps all stakeholders up-to-date with the latest progress and action items
✔️ Multi-step, clear approval function ensures processes are followed and nothing gets lost in messy email chains
Food and Beverage Brands Always See Positive Impacts Instantly After Leveraging KAWO
Gain up-to-date market trends
Be familiar with the competitors and industry updates, creating hot topics and obtaining competitive advantages.
In-depth insights to user preference
Have a clearer picture and deeper insights based on data about what users would like to see most, supporting social media strategy
Connect With Social Experts >>
✔️ One-on-one communication and evaluation of social media status by our commercial team
✔️ Unique social media management solution and industry case sharing customized for your business
✔️ No commitment required