Brands in the West face strict controls on who they can legally target through social, but how about in China? The government has attracted international attention for its strict policies aimed at protecting young internet users from spending too much time on "harmful" online activities such as gaming or excessive social media use — so how careful should alcohol brands be?
First, let's take a look at how the government has regulated certain social media platforms by having the platforms activate a "Youth Mode."
Youth mode refers to the "Youth Anti-Addiction System" — basically an initiative that regulates the online activity of minors in terms of usage time, duration, functions, and browsing content.
As recently as 2019, China passed laws limiting minors to less than 1.5 hours of online gaming during the week, 3 hours on the weekends with a no-play zone between 10pm and 8am. And just so those clever youths couldn't 'game' the system (pun intended) in 2021, tech giant Tencent even rolled out a facial recognition function that would further prevent children from unlocking phones with adult logins.
"Youth Mode" varies from platform to platform, but typically it refers to the restriction of a platform's functions including rewards, top-ups, withdrawals, live broadcasts, and interactions.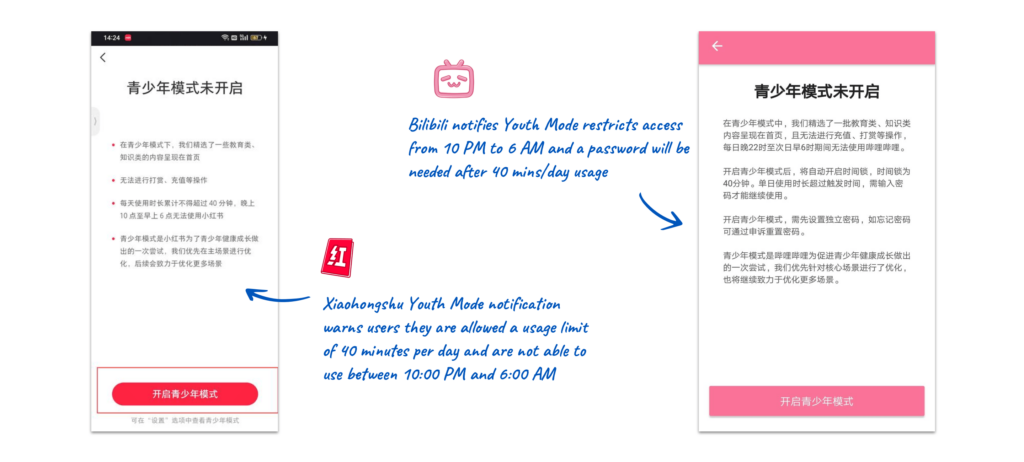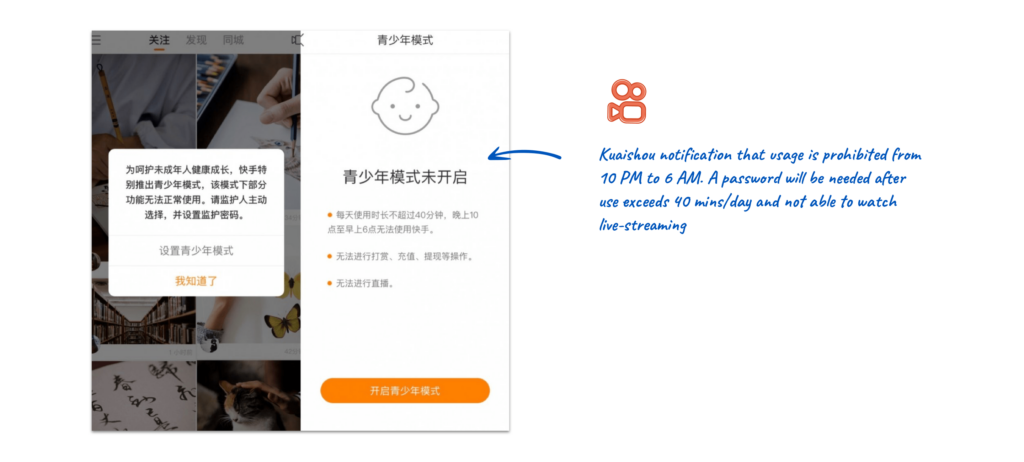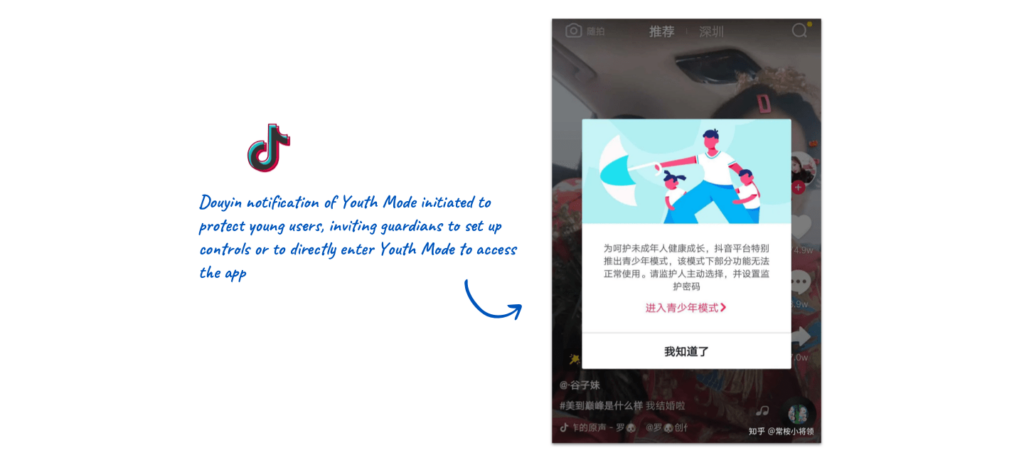 What "Youth Mode" looks like on different social media platforms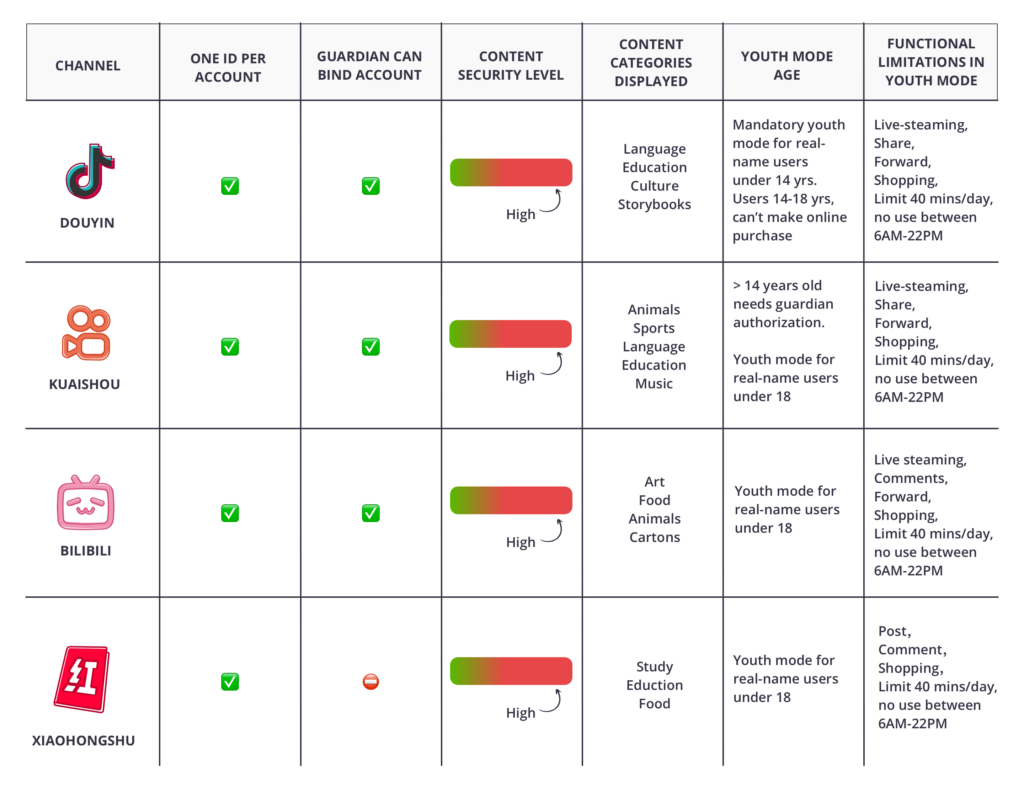 So what does this mean specifically for alcohol brands?
Official regulations on the protection of underage drinking
The legal drinking age in China is 18, which prohibits the sale and consumption of alcoholic beverages and non-alcoholic drinks with contain more than .5% alcohol by volume to any persons under the legal drinking age.
While those caught drinking underage can face heavy fines so too can the companies responsible for selling the products.
According to the regulations, selling alcoholic beverages to minors will result in a fine of no less than 5,000 yuan and no more than 30,000 yuan. Sellers of alcoholic beverages and carbonated drinks should display health damage warning signs that meet the standards on the shelves or counters; otherwise, they will be fined 1,000 yuan. [s]
Article 11 of the "Law of the People's Republic of China on the Protection of Minors" prohibits the sale of tobacco and alcohol to minors. Operators should prominently display signs indicating that tobacco and alcohol will not be sold to minors; if it is difficult to determine whether the person is of legal age, they should be asked to present identification documents. [s]
Common practices among alcohol brands in China
Based on our observations the key methods used by online platforms to verify age involve checking the ID number associated with the user account or the user's cell phone number which is registered under ID.
(*It's important to note here that although there is no age limit for applying for an ID card, most Chinese families only apply for their children after they turn 16.)
In addition to this, alcohol sellers are required to confirm the age of consumers and inform minors that they are not allowed to purchase or consume alcohol. [s] To fulfill this obligation, sellers often implement a pop-up window on the sales page. Users can only proceed to browse the online store page after checking "I am over 18 years old" or entering a "date of birth" that complies with legal requirements. If the input age is less than 18 years old, users will be redirected to an educational page about the dangers of underage drinking.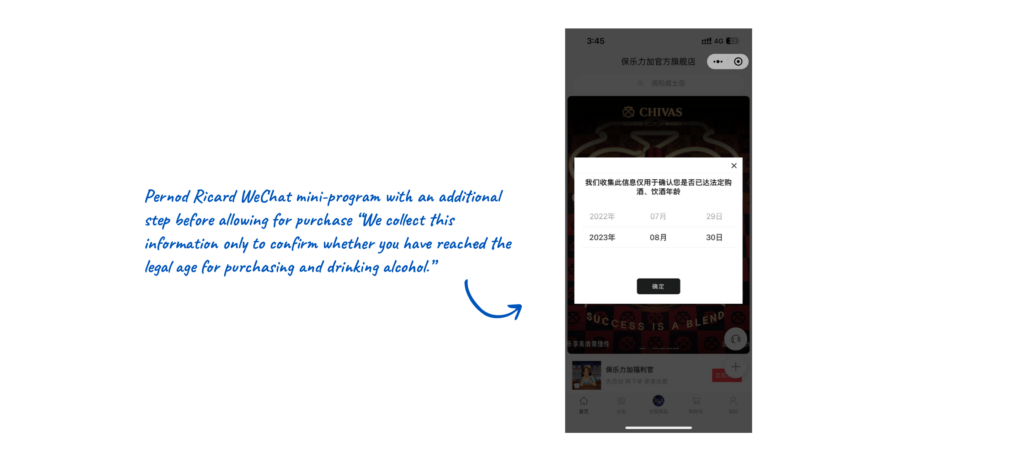 Want to know what your competitors are up to on social media in China?
Use KAWO Competitor Tracking Tool!
Get a quick overview of where you stand up against your competitors with KAWO's competitor ranking, one dashboard that simplifies the process of analyzing previously scattered data. Turn public data for other brands on WeChat, Weibo, Douyin, Kuaishou, Xiaohongshu, WeChat Channels, and Bilibili into actionable insights to grow your brand.
Key Takeaways for Alcohol Brands in China 
1. When possible, implement ID verification
Most social media platforms that have connected e-commerce capabilities will allow official accounts to implement a real-ID verification process, ensure your brand utilizes this feature to protect against illegal activity. Even if a young user violates the system by using an adult's ID to complete the purchase the responsibility would then be passed on to the family and not the brand.
2. Careful collaboration with influencers
Collaborations with influencers are an unavoidable tactic of marketing in China, but be wary! Collaborations can result in liabilities for brands if regulations are not closely followed by the content creator. Have official activity routed through the official brand account where real ID verification can be implemented and be clear on campaign rules and messaging.
3. Don't push it 
Better safe than sorry! Chinese platforms are not interested in pushing the limits as they can easily be shut down by the government for the slightest infraction or implied harm to society's overall good. Because of this, platforms are widely known for shutting down official accounts if they feel a line has been crossed, this is often a grey area with limited resources to reverse such a decision. Make sure you're working with a legal team in China to ensure continued compliance.