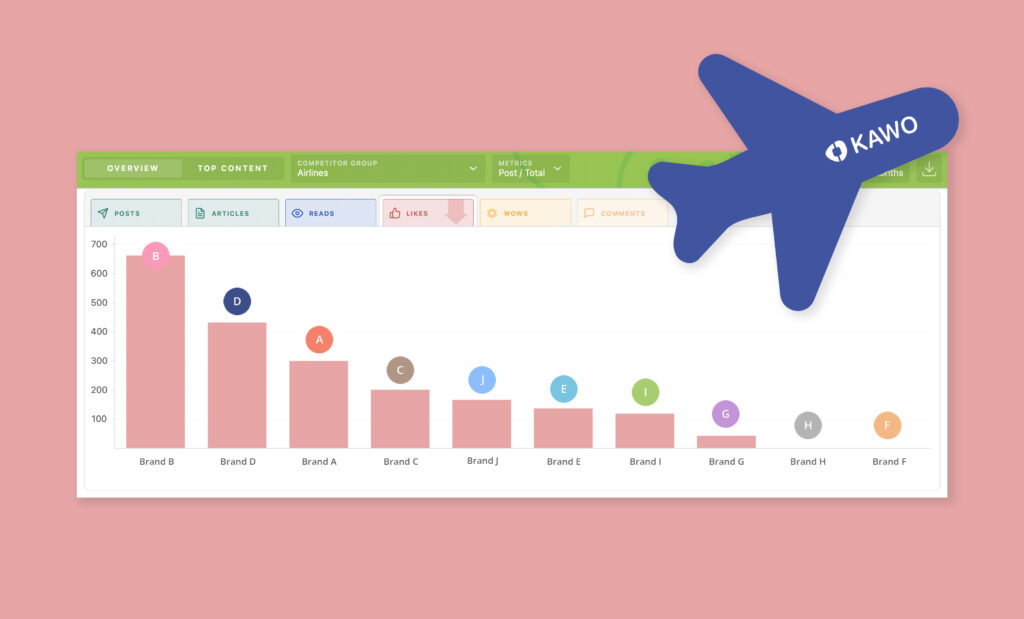 Understanding consumers' needs and wants is of great importance to marketing teams as it eliminates guesswork in decision-making. Do you know you can draw consumer insights from benchmarking your competitors' social media performance? And KAWO can help you with that by having a fast and cost-effective way to understand the needs of your target customers in China. 🎯
How exactly? You can use KAWO to:
Explore the keywords and content that are trending in your peer group to learn what your competitors' customers are interested in or not;
Discover and analyze your competitors' best social media practices;
Identify your position in relation to industry averages and mediums of social media metrics, such as Follower Growth, Engagement, and Reach
Which Airline Brand Drives the Best Engagement on WeChat?
Using the airline business as an example, let's see how it works. But first, let's take a closer look at four metrics used in the example:
ARTICLES: Total number of WeChat articles published in the selected date range
LIKES: Total number of likes received on the post in the selected date range
COMMENTS: The number of comments received on the post in the selected date range
WOWs: The number of wows received on the post in the selected date range
We checked the social performance of 10 global airlines during the second quarter of 2023 and here's what we found out.
▶️ Step 1: Briefly describe the facts
In terms of ARTICLES posted on their WeChat official account, Brand A made the most effort, followed by Brand B and the rest, posting the most content in quantity. ⬇️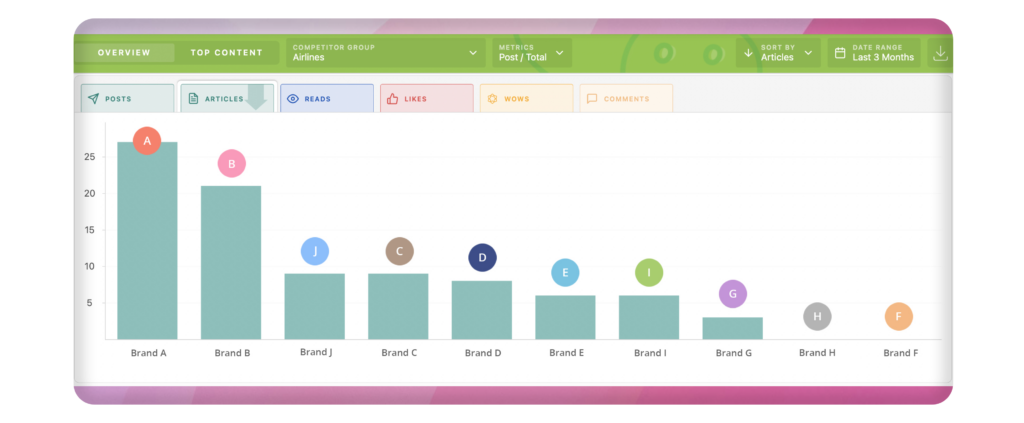 When compared with those who post relatively few articles on their WeChat accounts, Brand D leads the pack in the number of LIKES it receives. ⬇️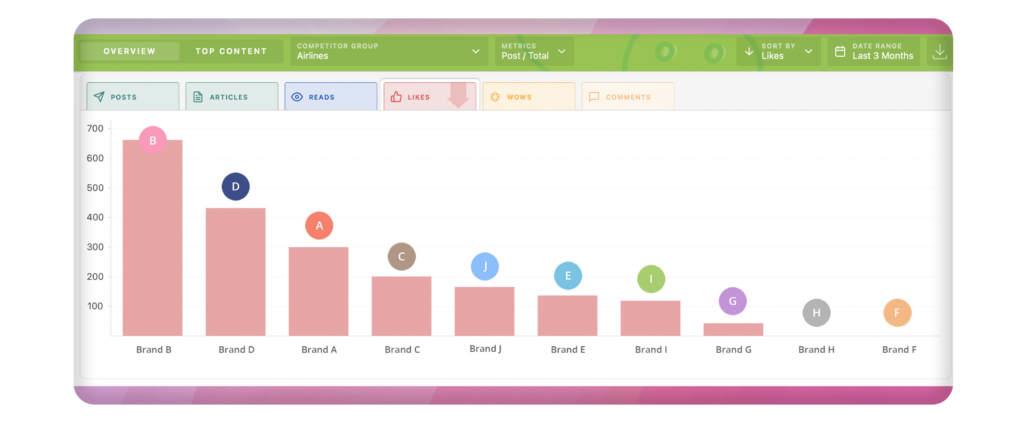 Brand B received the most COMMENTS, followed by Brand I and Brand D. ⬇️
▶️ Step 2: Following the observation, ask questions that help you draw insights
There was some content posted by Brand A that did not seem to draw enough engagement from its followers. Is there anything that can be improved and what went wrong?
There were fewer posts by Brand D, but some content received good engagement. What were some of the most successful posts to learn from?
Are there any topics or keywords Brand B posts about that make their followers more active than their peers?
▶️ Step 3: Analyze and find out the answers to draw insights
Insight 1: Titles of WeChat articles affect ENGAGEMENT greatly.
Sorted by LIKES, we found that posts from Brand A's WeChat accounts that didn't perform well have titles that sound like ads without mentioning the value or features their target customers would find interesting. 👇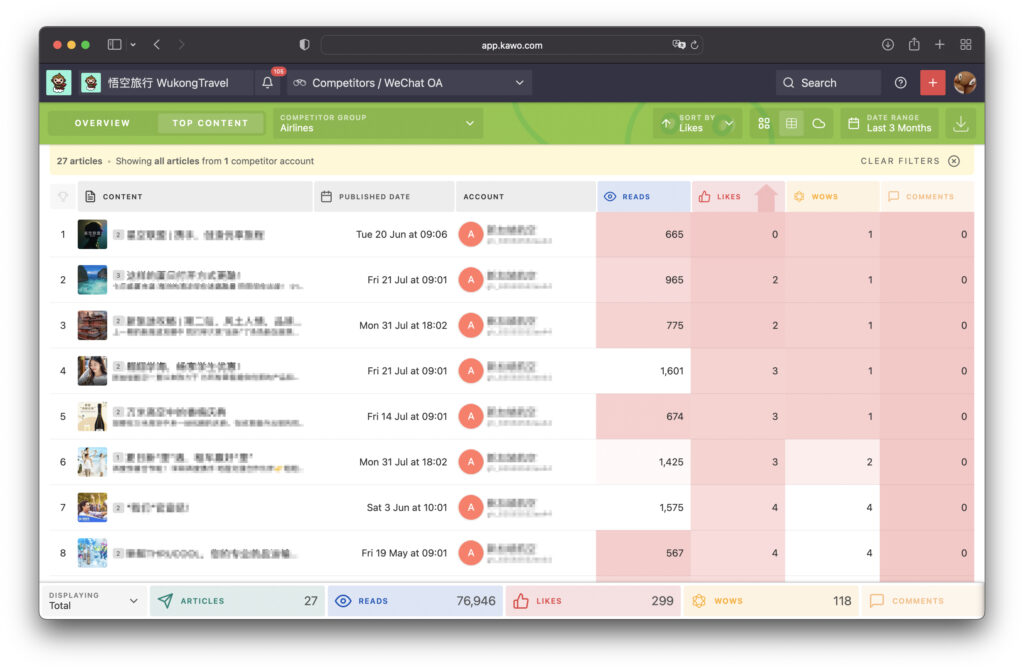 As we move forward, we'll focus first on the two posts that did well, and then on the one that didn't drive much LIKES:
Note: To avoid tracing back to the original brand content, translations are slightly modified
The most liked posts, "Free Wi-Fi for all members, we've done it!" announces that the airline is now providing free Wi-Fi to its members got the most LIKES. 
The second mostly liked post during the selected date range, "World's Best Airline, We Won!" shows the airline's credibility by sharing the news that it has won Skytrax, the industry's Oscar.
While the content provides a lot of good information, the title of the post that gets the fewest LIKES, "This way of opening summer is even cooler!" is generic and requires no action.
Conclusion: Titles of WeChat articles affect ENGAGEMENT greatly. Titles that are straightforward in providing key information drive up engagement.
Insight 2: Engage your audience by including call-to-actions in the title of your posts.
To understand how Brand D outperformed the other brands with fewer posts, we ranked all the posts during the selected date range by COMMENTS and WOWs. The top three are:
🏅️ Questionnaire with prize | Let us hear your voice
🥈 Flights and Gifts are paired together in July.
🥉 Take a graduation trip to Japan this summer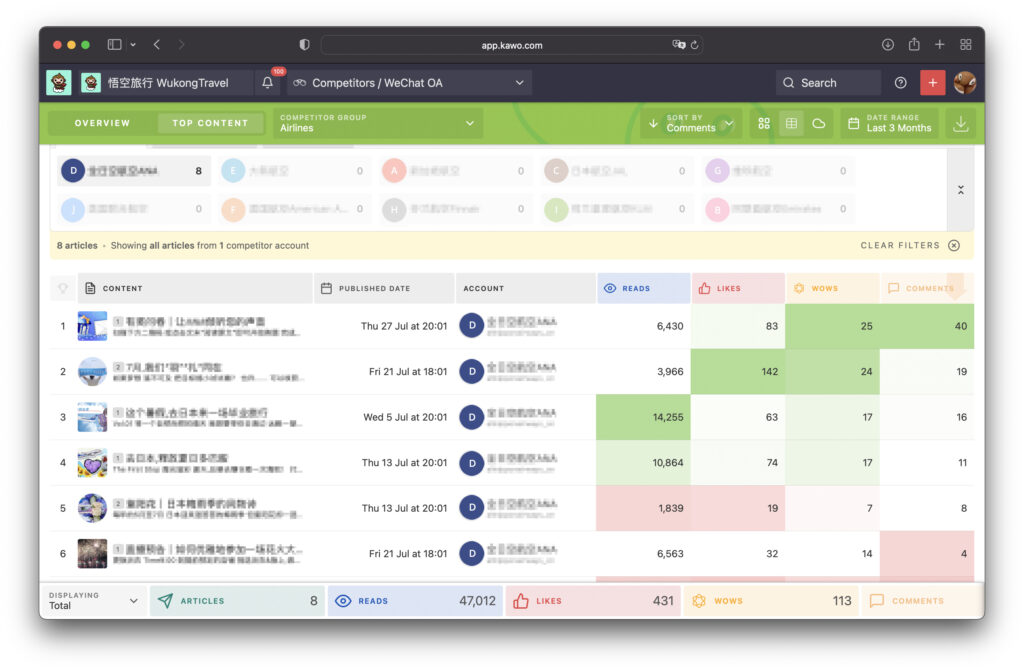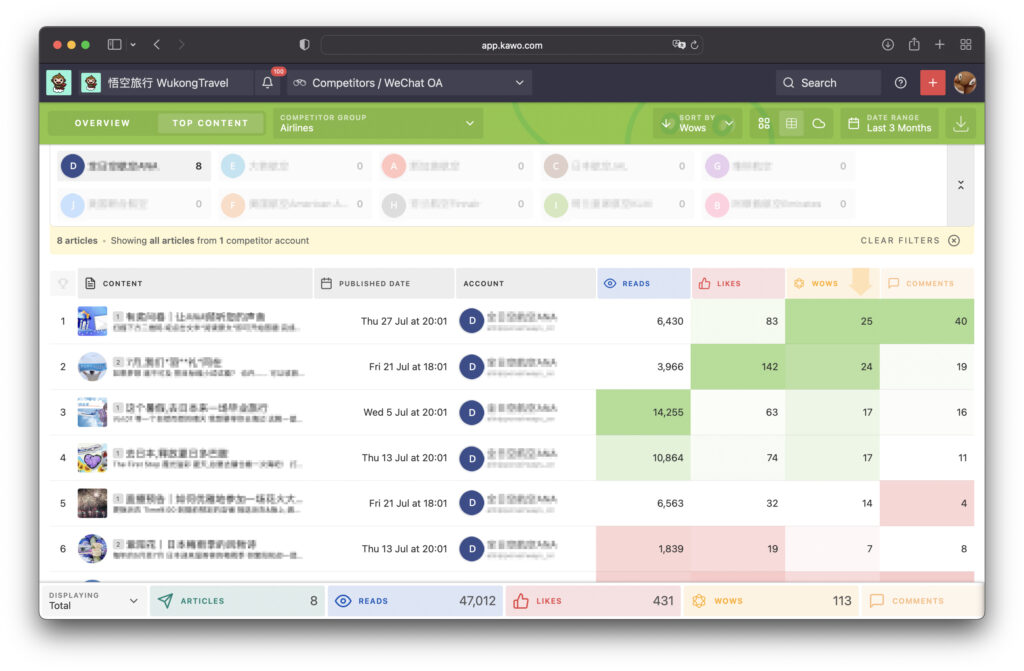 The top content of Brand D were all CTA-driven, offering free value or prizes, to actively encourage engagement from their followers, including feedback, participations, information requests, etc.
Conslusion: Include CTAs in posts can effectively improve engagement. If the post gives away free value or prizes, let your readers in the title!
Insight 3: ENGAGEMENT is greatly influenced by topic diversity and consistency.
To discover what the company discusses most frequently, we conducted further analysis of Brand B's posts by using Word Cloud feature in KAWO Competitors.
When comparing the key topics of Brand B and Brand G, we also found that consistency and diversity play an important role since the latter does not receive as much engagement.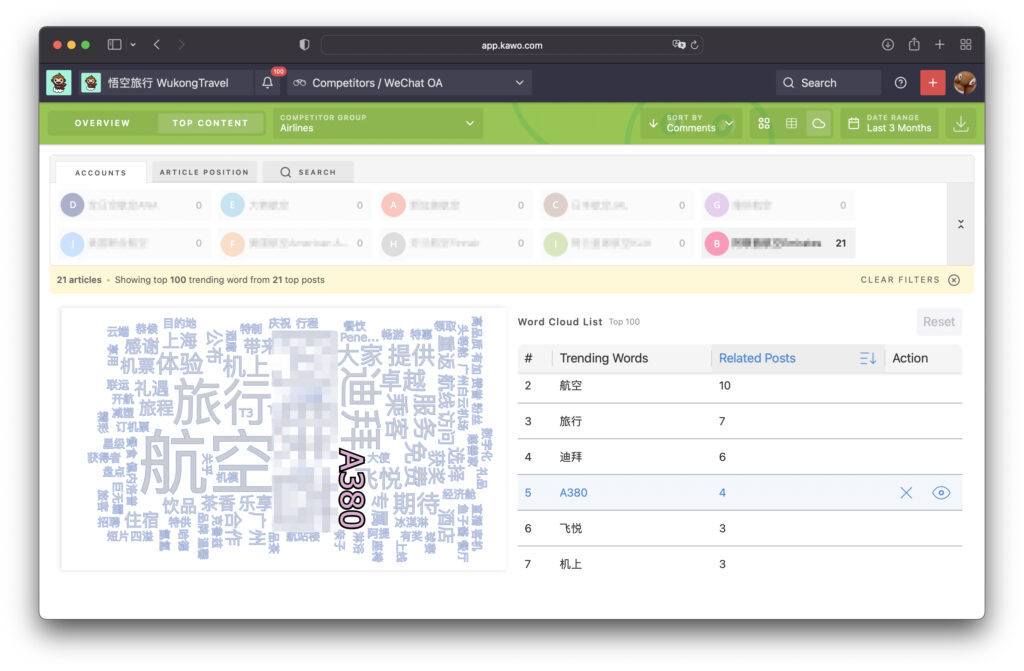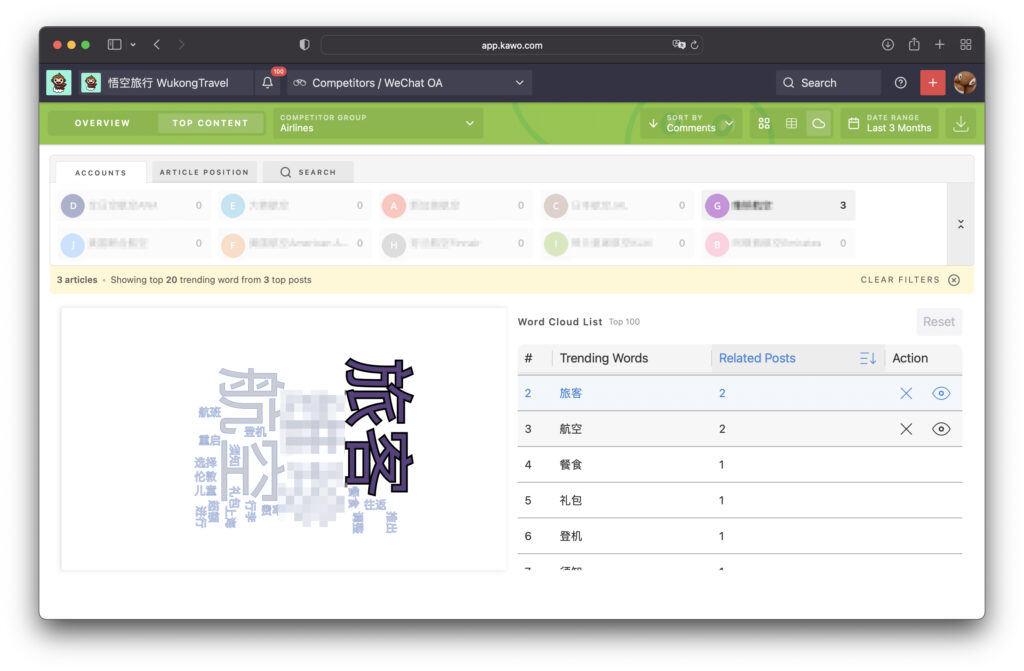 Conclusion: ENGAGEMENT is greatly influenced by topic diversity and consistency.
Start using KAWO today to keep track of your competitors social performance. Schedule a demo and we'll show you how.