In recent years, social media usage and purchasing power of seniors have increased exponentially, yet little effort has been put into studying their needs and behavior changes … This is a missed opportunity for brands across many industries. 
Short Video: Seniors' Favorite
80% of netizens over age 60 spend on average 1.5 hours each day browsing short videos [S]. Many retired seniors report experiencing common issues such as loss of vision and hearing capabilities. Short video, offering graphic motion and clear sound, is more entertaining and effortless for seniors to enjoy and kill time compared to plain text and images.
Douyin and Kuaishou are China's two major short video players. 49.3% of senior viewers choose Douyin as their go-to video platform, while Kuaishou comes in a close second at 33.3% [S]. With both focused on live-streaming and e-commerce, "Dou Kuai" (Short for "Douyin and Kuaishou") continue to grow and increasingly encroach on each other's territory vying for viewers.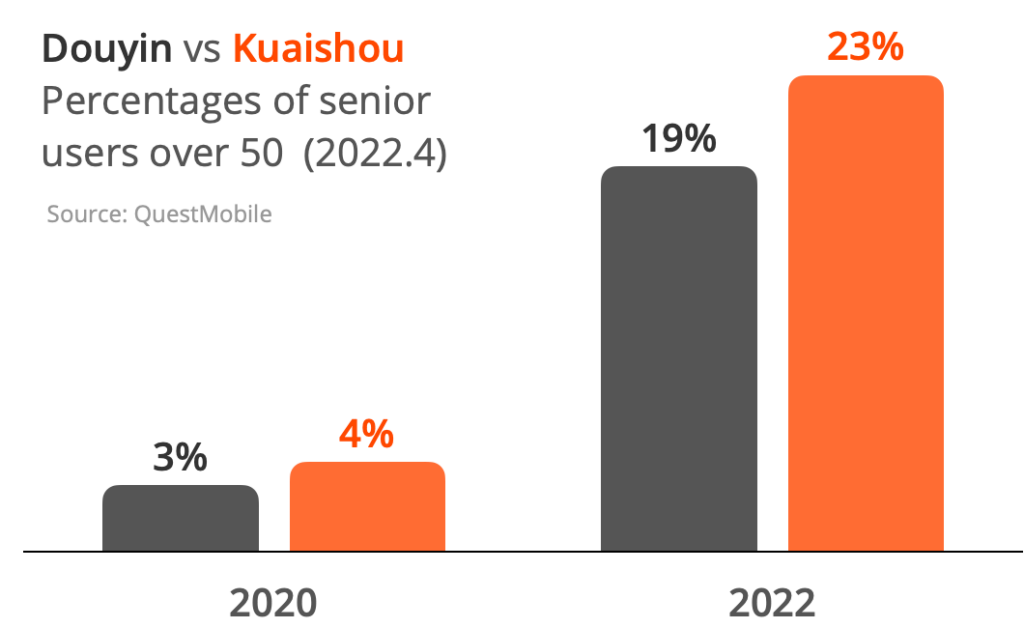 How can Brands Conquer the Blue Ocean Market of Seniors on "Dou Kuai"?
Live commerce and shoppable videos penetrate all generations including senior netizens. 28.8% of age 51+ viewers on "Dou Kuai" have an average online spending power of over RMB 2000 [S]. By the end of 2022, seniors became the fastest-growing group of users, driving social sales in categories like cosmetics, clothing, healthcare, etc. Catering to the interest-based "Dou Kuai" algorithm, collaborating with influencers on live commerce and shoppable videos is usually the most efficient way to reach a target audience and drive sales. However, the optimal solution for seniors might surprise you.
Sales-driven content alone is not the answer
The majority of the so-called "senior" products in the current market are not refined for seniors' needs due to a lack of market research. For example, clothing labeled as "for seniors" is mostly just plus-size outfits in dull colors, otherwise categorized as mass-made products, easy for instant sales, and suited towards price battles with off-label brands.
"Real" aging-friendly products (tailored home appliance, specific healthcare and rehabilitation aids, etc) are not well-known concepts and therefore often require additional education. It's easier to convince seniors to convert if they deem the product as entertaining or meeting their rigid demands. However, when facing unfamiliar products, it's much easier to convince younger generations, but even for them, it would require a considerable amount of market education before conversion.
In order to educate, brands need to build trust and a positive brand impression. Focusing on sales-driven content only isn't enough, as counter-intuitive as it is to the usual "Dou Kuai" marketing strategy.
Influencer Marketing has a different impact 
Senior influencers have a strong presence on "Dou Kuai", but collaborating with them might not work the way you expected. It's natural to assume that most fans of senior influencers would be seniors themselves, but it's not the case — most senior influencers on "Dou Kuai" have a lot more young fans than senior fans. Young people respect and care for senior family members, and they'll be interested in aging-friendly products.
Move Free Case study: How Does Move Free Leverage Short Video?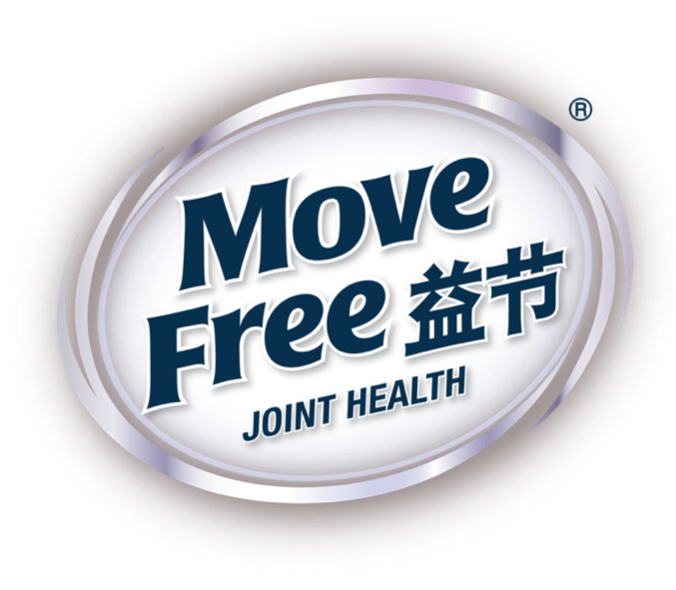 Believe in the value of owned social media
Believe in the value of owned social mediaMove Free is known for its joint aiding supplements, and has been making their mark on China social media. As it's still a new concept to the Chinese market, they take control of the content narrative and adapt a softer approach to marketing.
Through the short-video series "The Great Parenthood" [S], where each skit focuses on relationship drama mostly between a daughter, son and mother-in-law, the brand leverages one of the most relatable generational topics in modern China to attract both young and senior audiences. The series is updated every 2-4 days, with over 150 episodes in total so far.
Some skits don't even mention Move Free products. The brand focuses on trust-building through prioritizing quality, entertaining content. When they do mention the product, a link to the brand's livestream will be added on the screen, those viewers who wish to learn more can follow the link to an e-commerce product page. 
Collaborating with influencer for brand awareness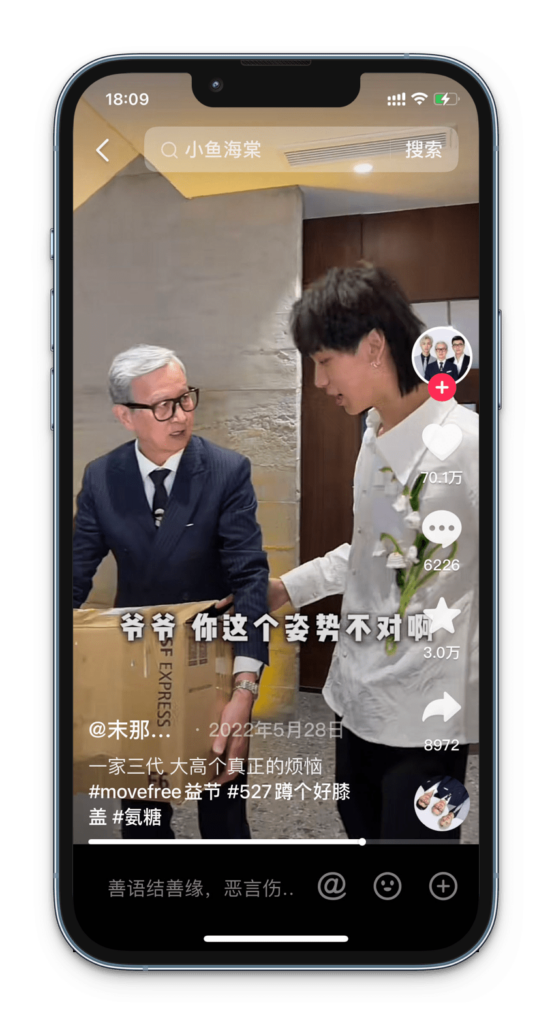 Apart from owned content, Move Free leverages the power of senior influencers well. They worked with the esteemed IP "末那大叔" [S] feathering the daily life of the grandfather, father, and son. In a skit called "the trouble of being big and tall", a Move Free product was introduced when the grandpa tried to pick up a box but didn't squat right. The video has received over 700,000 likes.
From online to offline
Many worry that short video platforms would eat into seniors' outdoor time. However, the research shows that among seniors who spend around 5 hours or less on the platform daily are actually more likely to participate in offline community and leisure activities [S]. Brands can be inspired by this counter-intuitive result and leverage Douyin to attract senior users to visit offline stores and services.
"Dou Kuai" : Improve conversion rate of existing users
The average usage time of "Dou Kuai" is more than 100 minutes per day, per user, 3 times that of Channels [S]. The "Dou Kuai" algorithms are designed to stimulate dopamine releases and therefore these two platforms have been successful in capturing short-term attention.
However, the "quick and fun" rhythm of "Dou Kuai" provides only one incentive for senior audiences to stay —— entertainment. A lack of diversity in the ecosystem has its shortcomings: after the rapid growth over the past 5 years, ads revenue and MAU stagnated in 2022. The need for "Dou Kuai" to improve conversion rate of existing users is urgent.
If you are interested in knowing more how to reach seniors on WeChat Channels, Little Red Book or Bilibili, feel free to download "Social Media Marketing to Seniors in China 2023".