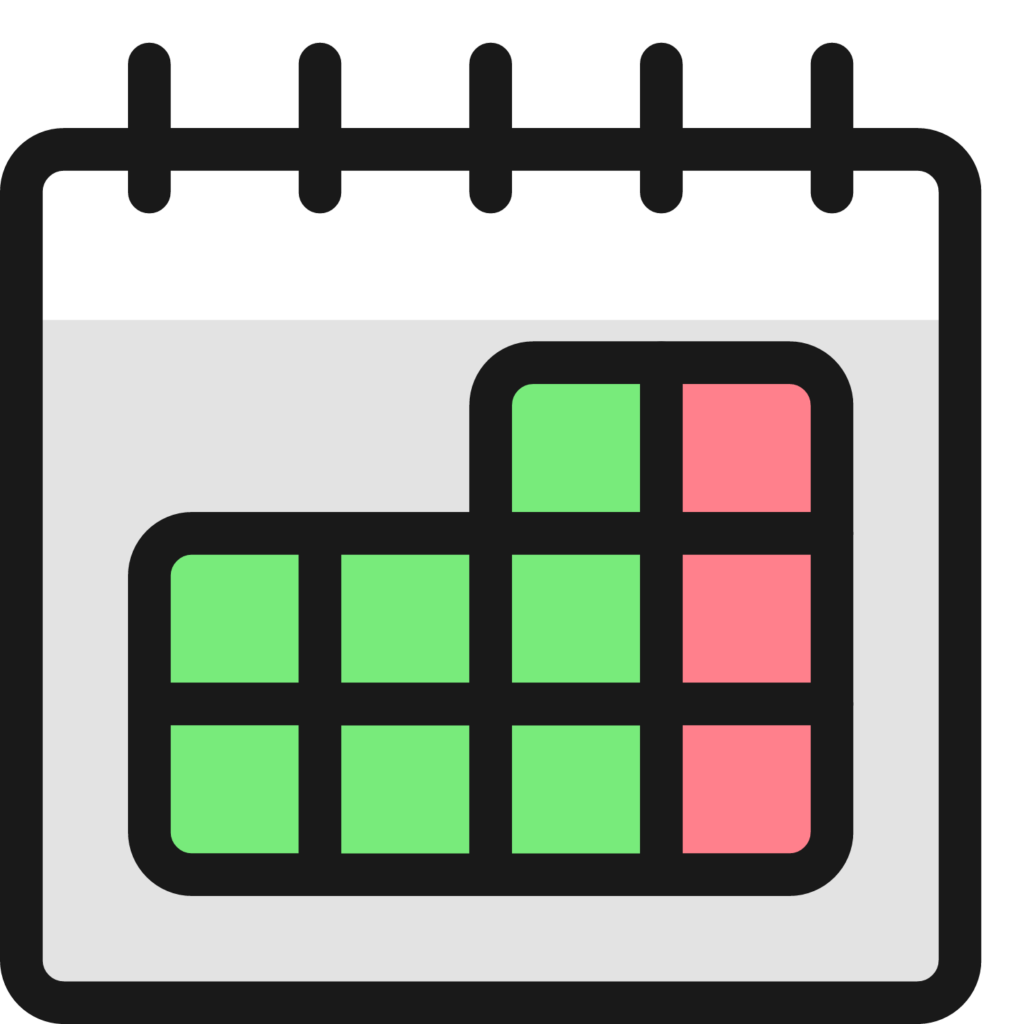 In this article, you will learn some tips and tricks for creating the right editorial calendar for your team, the benefits of having one, and what KAWO Calendar can do for you 😏 You will also find some good stuff for your social media marketing in China at the end of the blog.
So what is editorial calendar?
If you are a marketer planing out when and where to publish upcoming content for your brand or organization, you can do that via an editorial calendar (also called a content calendar). Typically, an editorial calendar includes upcoming content, status updates, promotional activities, campaigns, etc.
What should a perfect editorial calendar look like?
Considering having one? But there's no such thing as a perfect editorial calendar.
The right one you choose for you or your team must be based on its needs. When determining how your editorial calendar should look, it's helpful to consider the following five questions.
☑️ 1. Who is the editorial calendar created for?
An ideal editorial calendar allows multiple people to brainstorm, collaborate, and provide feedback in real time⌛️ You need to think about whether it's for sharing among organization members, for external collaboration, or for better communication between your agency and you. Also, it could just be for your own productivity within a small team of two three people.
☑️ 2. What type of content will be added to the calendar?
It's necessary to distinguish between the channels on your editorial calendar if you upload videos as much to short-form video platforms such as Kuaishou and Douyin, or long-form video platform Bilibili, as you publish articles and posts to WeChat, Weibo, or Xiaohongshu.
☑️ 3. How frequently are you publishing content?
Are you planning to share videos on Douyin or Kuaishou every day? Perhaps you post multiple times a day on Weibo, and push articles on WeChat four times a month. It will help you determine the best way to visualize your calendar if you know how often you publish content across different social media platforms.
☑️ 4. What are the steps before content gets published?
Is your content plan complicated? What is your organization's process for reviewing and approving content? Your calendar should help you differentiate between similar assignments at different stages of completion.
☑️ 5. What format will you use to organize this calendar?
It's important to choose a system that aligns with your goals and your team's workflow.
Editorial Calendar Benefits
Putting together an editorial calendar can be time-consuming (Or not 😏 demonstrated in the next part), but it can greatly impact the results of content marketing: A -> E👇
A. Accountability In content marketing, there are a lot of details to keep track of. Although not everyone needs to know which blog or hashtag gets published when, an editorial calendar is helpful in keeping everyone on track, and stay on top of their responsibilities.
B. Better Process An editorial calendar simplifies these processes, and gives your team a clear overview of the project, quarter, or campaign from beginning to end. It allows departments and teams to coordinate and streamline their work.
C. Consistency It is easier to create consistent content for your audience if you plan it in advance. An editorial calendar also provides a structure for creating batches of content. By doing so, you can focus on ideation and content creation separately, resulting in more energy and focus as you create quality content.
D. Data Insights An editorial calendar provides a clear record of: Content Types, Assets and Content, Date and Time to publish, etc. It will be easier for your team to track content performance with this record in place, and to optimize and improve your content more effectively.
E. Efficient Teamwork Better accountability and simplified processes make your team more productive. It gives your team more time to use their unique abilities to create great content. Furthermore, it simplifies employee training and retention.
Editorial calendars should be tailored to your team's needs. However, you don't have to reinvent the wheel.
The KAWO platform offers brands and agencies a wide range of useful tools and features for managing mainstream social media accounts in China. I'll walk you through KAWO's method for creating an editorial calendar that's interactive and shared across the team. 👇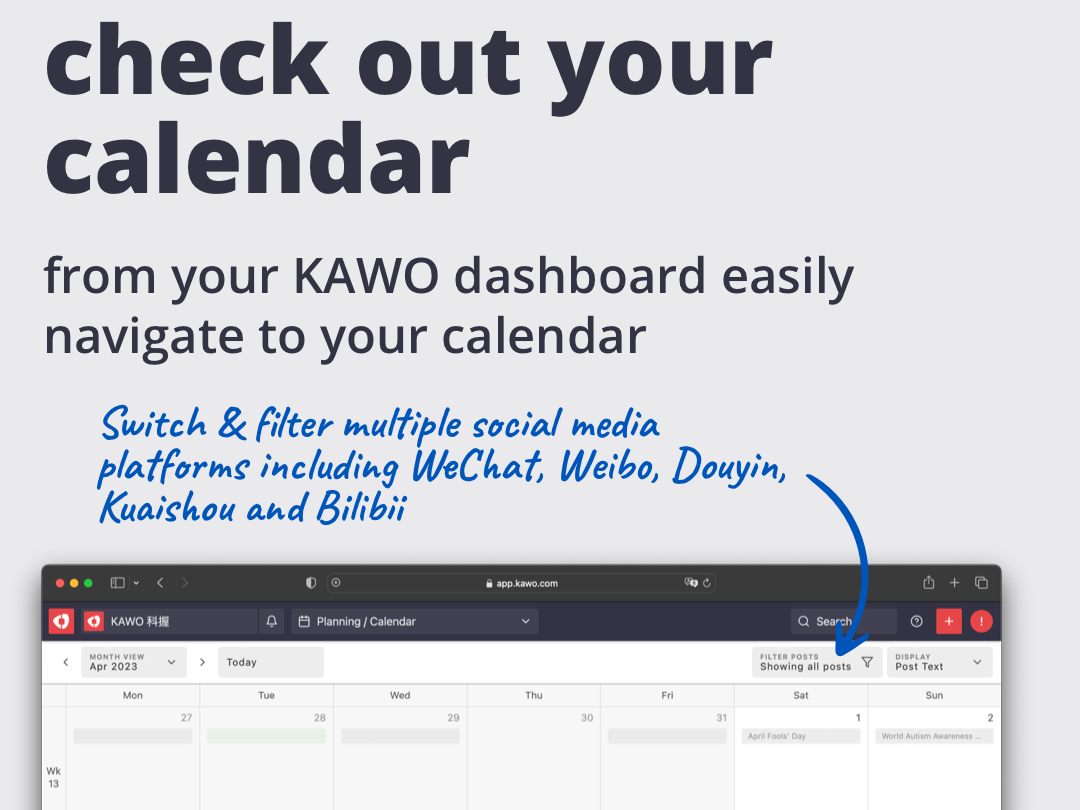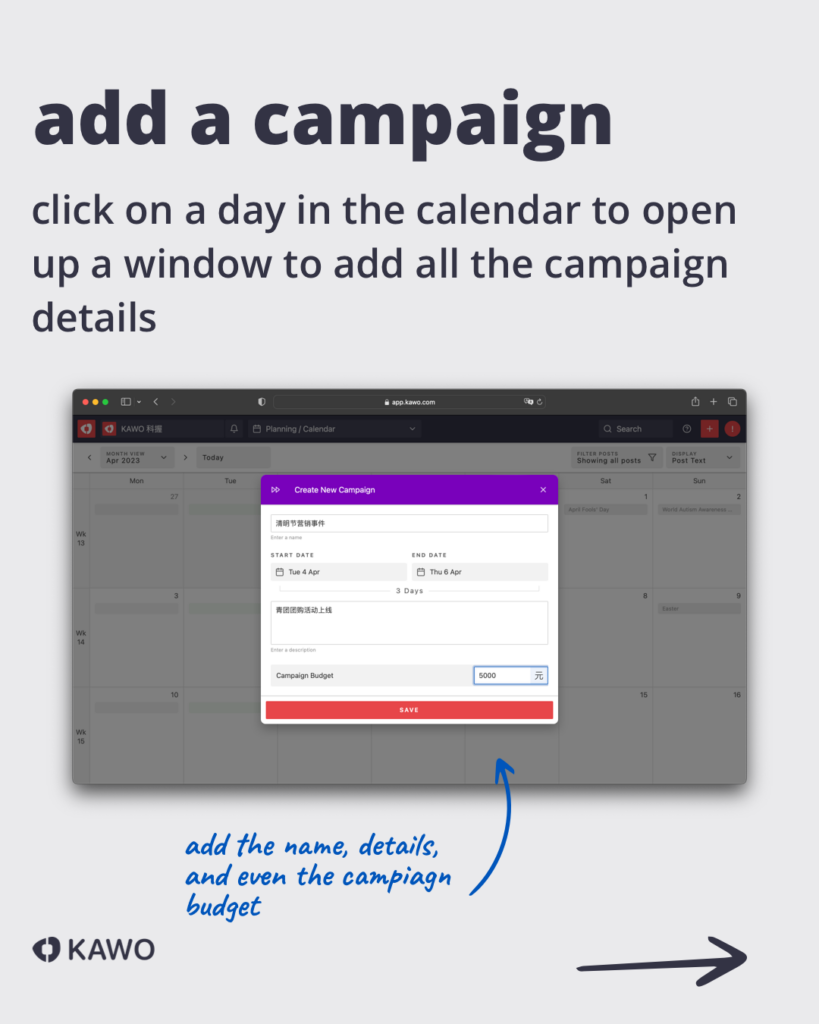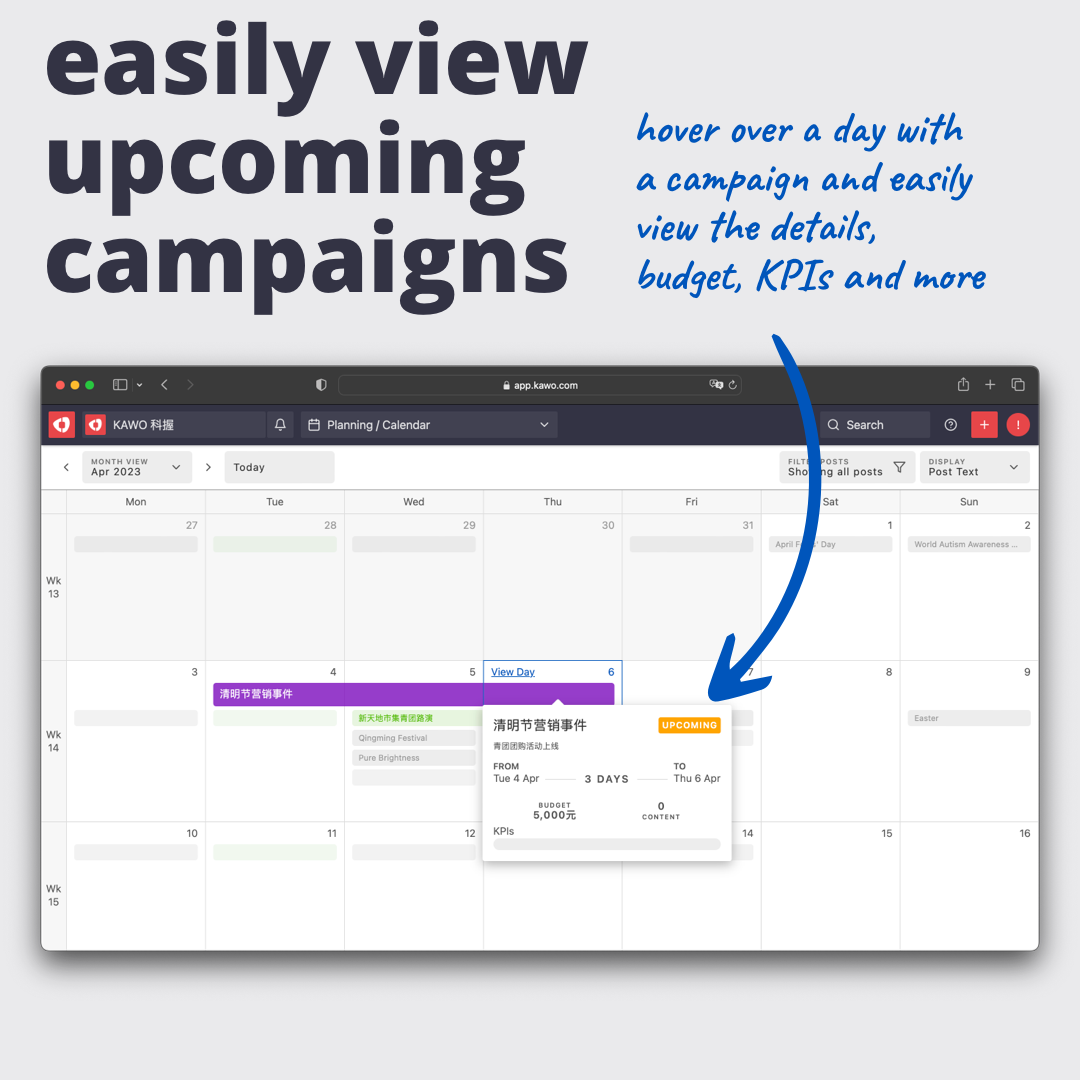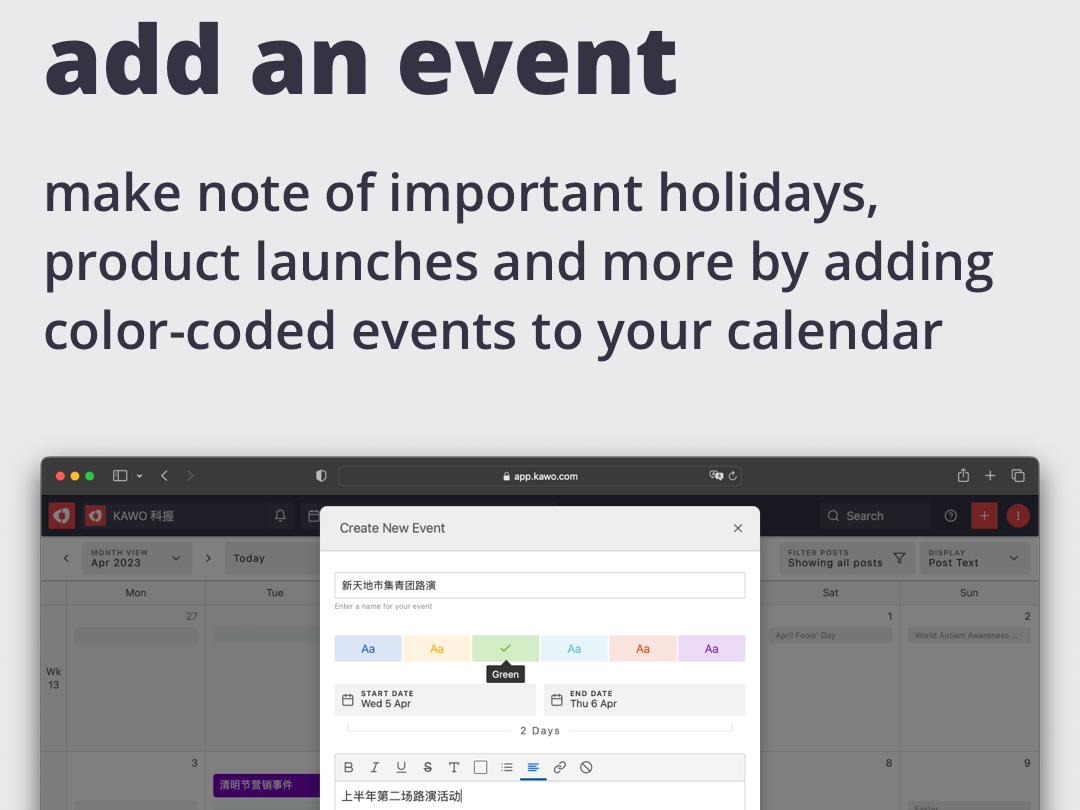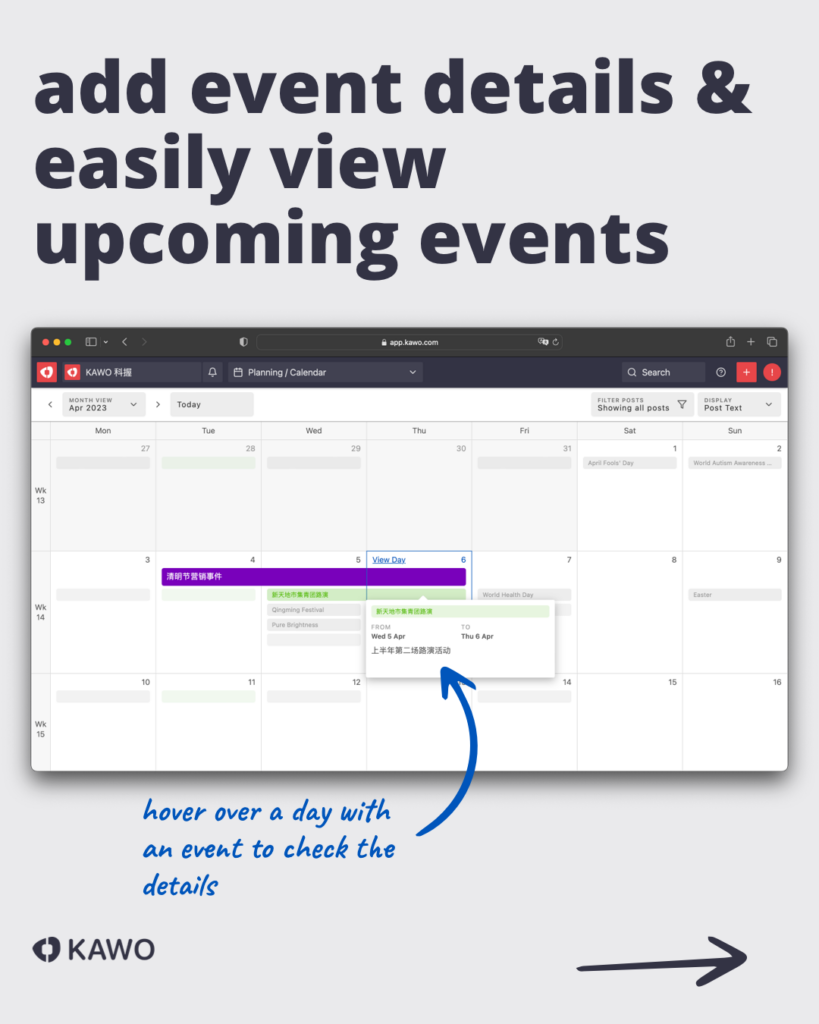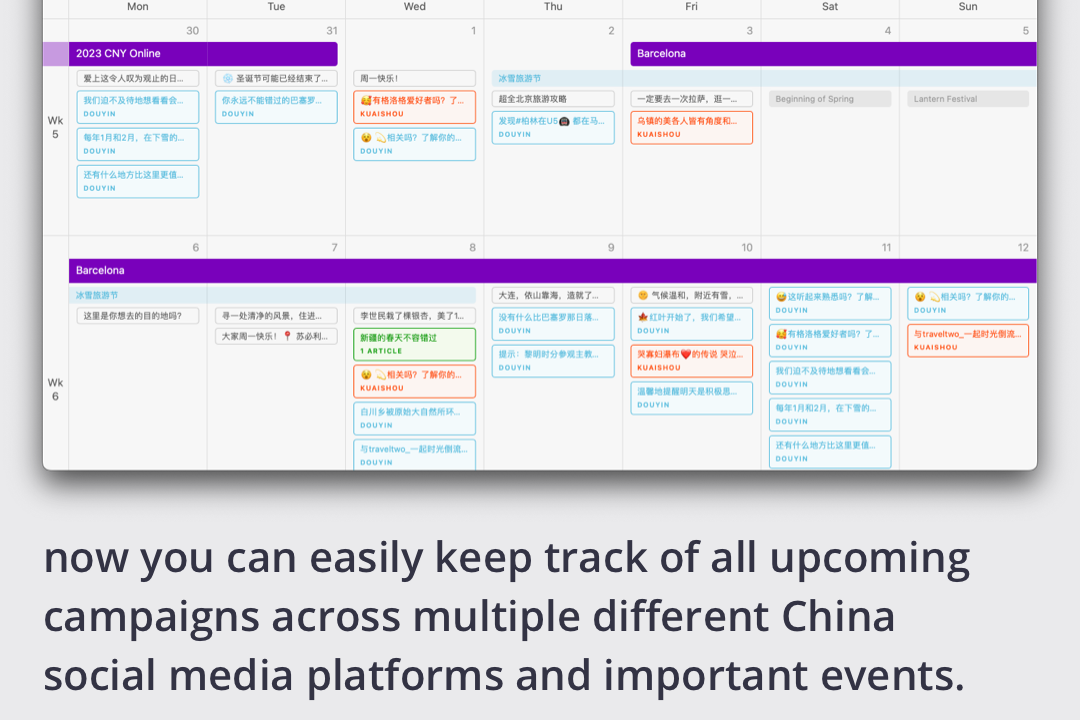 Last but not least …
Whether you plan to enter the China market or already have a team in China, join this 45-min webinar designed to help you better understand the Chinese social media landscape.
Looking for educational materials to help your global team understand China social media? We got you covered! Check out this and download free reports!
Schedule a free demo if you're interested in learning more about the KAWO platform.