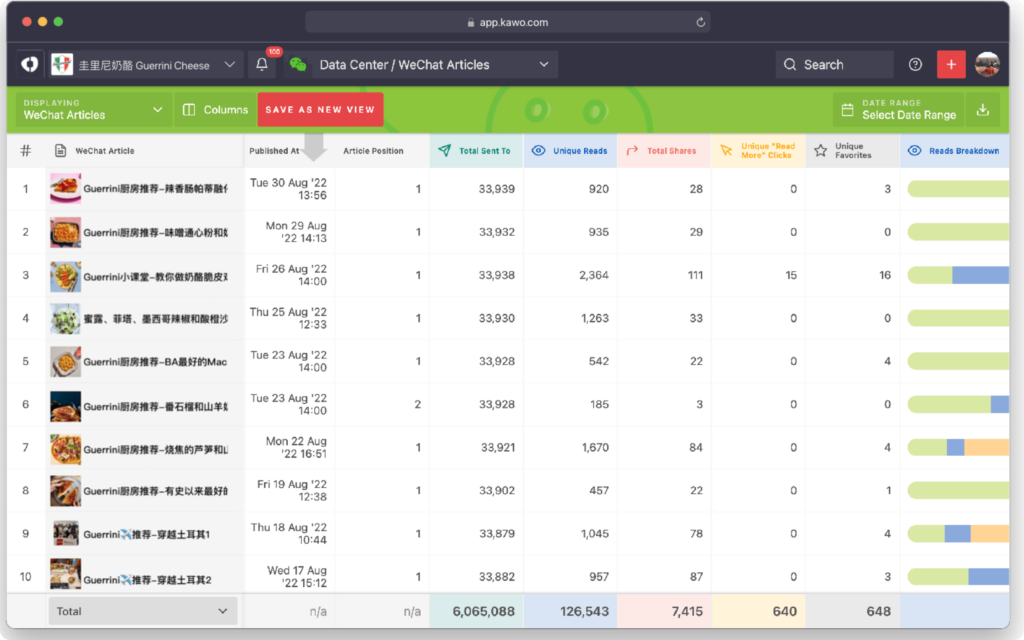 Love it or hate it, spreadsheets are an essential tool for marketing and business, regardless of your role. Built upon the concept that's familiar to all marketers, KAWO Data Center is intuitive and extremely easy to use.
Instant Access to All Your Data
It happens to the best of us that some really tedious tasks in our day-to-day jobs take up most of our time and energy. Things like manually pulling data, organizing them into spreadsheets, visualizing the data to make them presentable, etc, how many times have you tried to avoid or delegate them but it is not always possible?
Collecting and aggregating data from different platforms has become increasingly time-consuming and cumbersome in today's media environment. With KAWO Data Center, users now have instant access to all their social data, and they are ready for presenting anytime anywhere.
Intuitive Metrics Analysis
To drive decision-making, brands and agencies often turn to social media data analysis to evaluate content performance, discover problems, and gain data insight.
KAWO Data Center allows users to view detailed performance data for content on WeChat, Weibo, Douyin, and Kuaishou over a customizable time period, saving users from logging into different platforms to gather data. The data include custom metrics calculated by KAWO for more efficient analysis of content impact and engagement. Just like working on a spreadsheet, users can select and sort metrics to gain data insights.
Optimize Strategy with Customized Data
KAWO allows users to customize content tags for horizontal analysis. Marketers can tag content based on their business and brand needs to get customized data, to further optimize their content marketing strategy.
KAWO Data Center utilizes such metrics to help users monitor their performance across WeChat, Weibo, Douyin, and Kuaishou. Brands and agencies can now utilize its tools to optimize their social media content strategy.