Transform Social Insights
Into Business Growth
KAWO provide brands with a powerful social media management and social data insights platform. Apart from gaining insight into consumers and strengthening brand image through multi-dimensional data of KAWO, brands can also keep abreast of industry trends, win outstanding social performance and high ROI, thus stand out among the fierce competition.
KAWO is trusted by business of all size across the globe…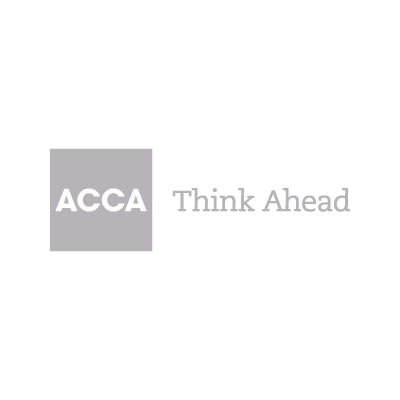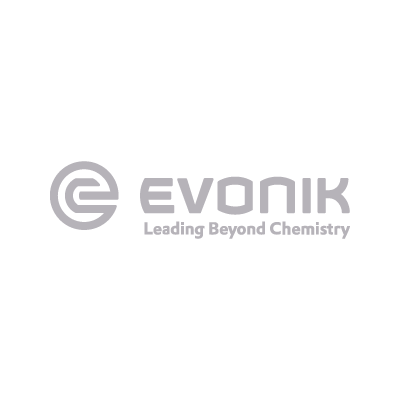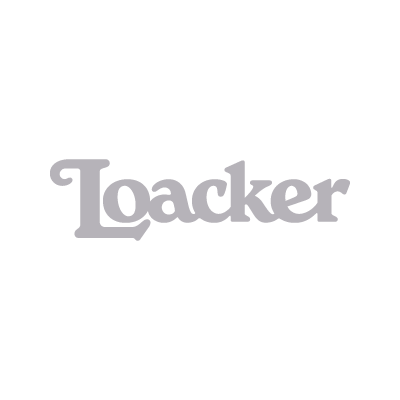 The success of social media comes from occasional flashes of inspiration and a seamless workflow of routine tasks
Multiple Accounts
In One Dashboard
Gather your sub-brands and different tier mainstream social media accounts into one single high-level view. Learn More >>
✔️ Overview and highlights
✔️ Shared marketing assets
✔️ Collaboration tracking
✔️ KPI monitoring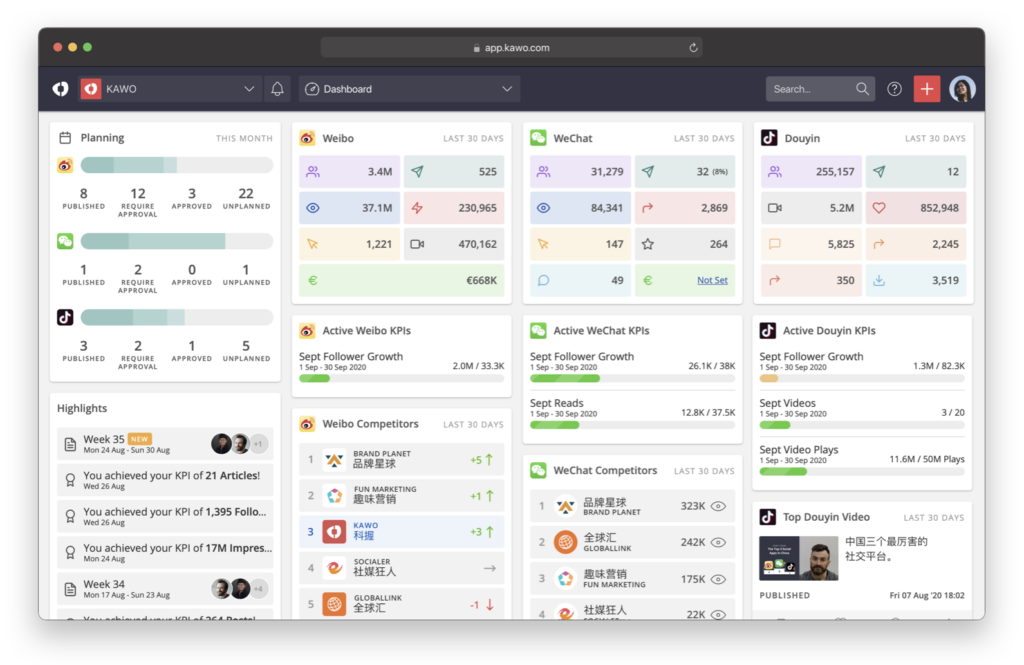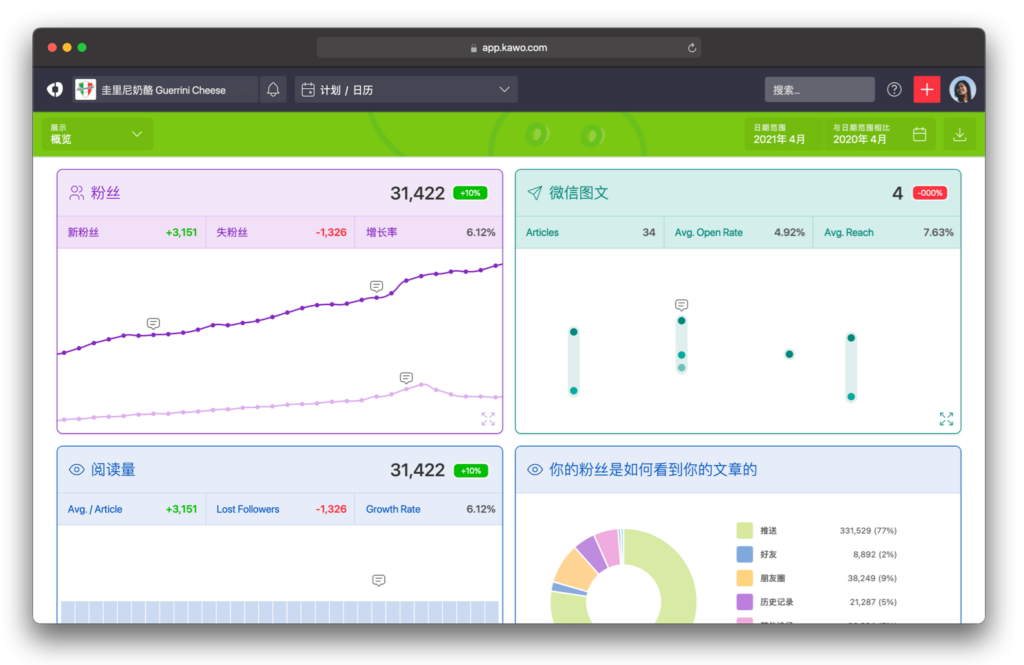 Reports and Data Insights
Discover social media performance in a intuitive way and obtain accurate data of your own brand and competitors anytime and anywhere. Efficiency improved with ease. Learn more >>
✔️ Content performance
✔️ Data analysis
✔️ Competitor ranking
✔️ Word cloud
Account Security
and Content Compliance
Automatically content compliance auditing on the could and account authorization management ensuring the security of brand assets.
✔️ Compliance alerts
✔️ Authorization assignment
✔️ Multi-step approval
✔️ Security management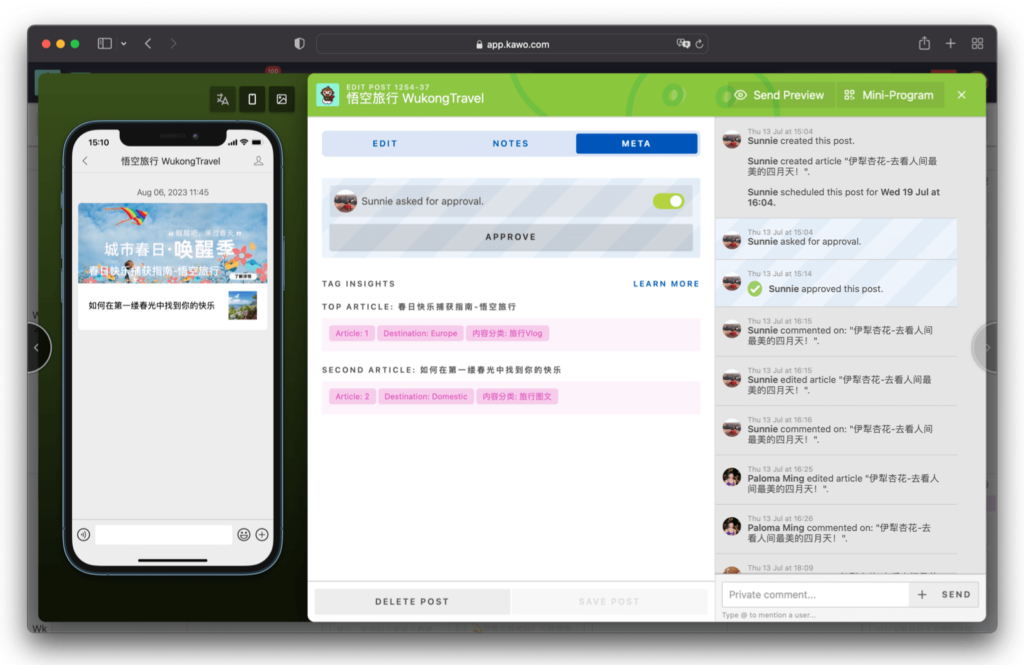 Some of The Positive Impacts
Brands Immediately See After Using KAWO
Save valuable time
Optimize repetitive manual tasks: data collection and reports generation, backend login and channel switching, collaboration across teams, best time to post, etc.
Why Choosing KAWO
Exclusive CSM for Q&A
Quarterly customized data insights sharing session
Testimonial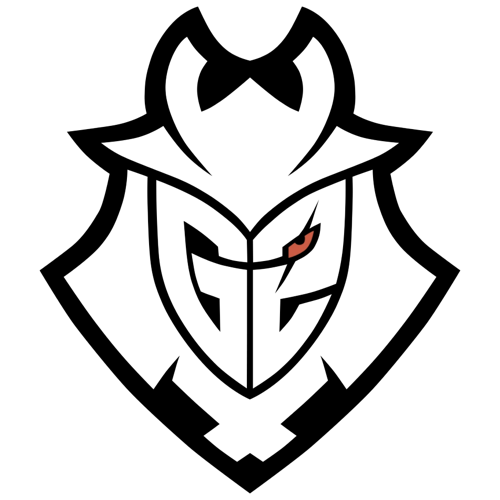 Chiayu
Social Management Specialist
"There has been a long-term lack of mature social media insights and management tools in China, and the emergence of KAWO has solved this pain point. Our social media team uses KAWO to capture key indicators, monitor content progress, track daily plans, and analyze the performance of different content in various channels based on the statistics provided. Within KAWO we can better link Chinese fans on social media ."
Connect With Social Experts >>
✔️ One-on-one communication and evaluation of social media status by our commercial team
✔️ Unique social media management solution and industry case sharing customized for your business
✔️ No commitment required, no burden