Discrepancies between KAWO Reporting and KAWO Competitors:
Difference in public data and your own data: KAWO Competitors provides public data, while KAWO Reporting tracks and analyzes the data from your authorized accounts. Hence, the later one includes more metrics and is more accurate.
Difference in tracking periods for public data and your own data on KAWO.
Minor difference in calculation: KAWO's definition of Engagement is the total number of comments, reposts, and likes received in the date range selected. Weibo's Engagement in KAWO Competitors also includes Likes to Comments, while KAWO Reporting doesn't.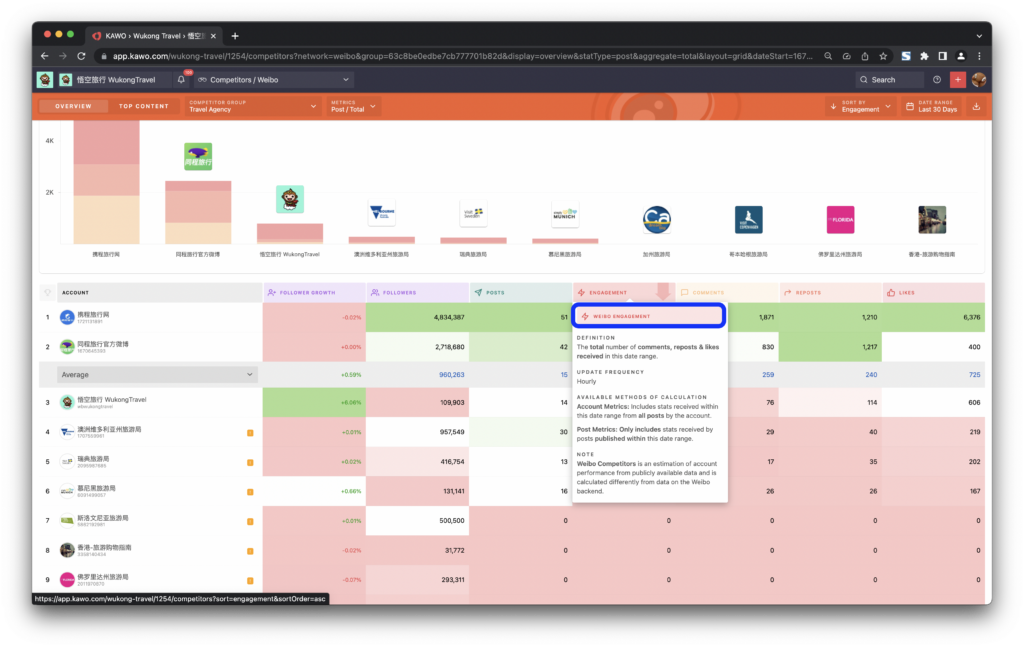 The discrepancy between real-time data and KAWO Data Center:
When exporting post data from KAWO Data Center, you might notice a discrepancy between KAWO and the actual post page, and that's because of a limited time range of data tracking in KAWO. Take Weibo as an example, KAWO tracks a Weibo post for 10 days after publishing, meaning impressions or engagement the post receives on the 11th day won't be tracked.
The discrepancy between KAWO Data Center and KAWO Reporting:
KAWO Data Center and Reporting provide you with post-level data and account-level data respectively.
The discrepancy between KAWO Data Center and WeChat backend:
The Total Reads in KAWO Data Center equals to the Total Reads (总阅读次数) in WeChat backend, different from the Reads in WeChat Recently Published.